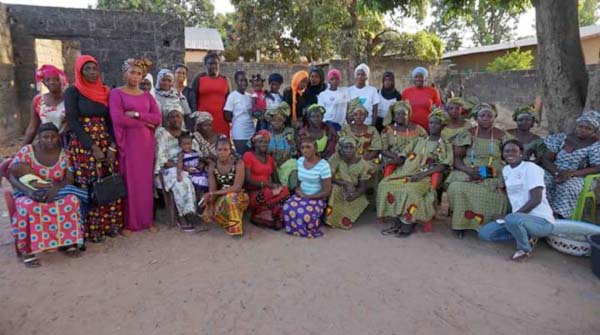 The Girls' Agenda (TGA) on Sunday organised a forum in commemoration of One Billion Rising, a global campaign to end rape and sexual violence against women.
The celebration took place in Brikama Misra and brought together women and girls to discuss gender-based issues affecting them and how to bring such issues to a halt.
The event was enlivened by the singing and dancing of the 'Kanyeleng' group who called for the elimination of violence against women and girls in society.
The One Billion Rising campaign started in 2012 and the "billion" refers to the UN statistics that one in three women will be raped or beaten in her lifetime, or about one billion. The campaign expands each year.
In 2016, the theme of the campaign is 'Rise for Revolution' and it seeks to amplify the call for systematic changes towards ending violence against women and children once and for all.
Ida Jatta, programme officer of TGA, said they are celebrating the day to create more awareness on all forms of violence affecting by girls in all parts of the world.
She said they use the event to discuss with the girls and mothers measures to take to protect girls against violence.
Isatou Jeng, programme manager of TGA, commended the community of Misra for hosting the campaign while urging them to join hands in the fight against domestic violence and gender-based violence.
She emphasized that girls need to be protected and their rights should not be violated.
Ms Jeng also called on mothers to look and take good care of their children.
"Mothers should have a good communication network with their children in other to help and protect them from perpetrators," she said.
Isatou Bittaye, communications officer of TGA, said Valentine's Day is not a day for sex or lovers, girls should be aware that many men get them fooled during this day just to destroy their lives and dump them.
"Most girls get pregnant during this day; men harass and abuse them and later reject any outcome of the situation which will retard their lives and destroy their future," she said.
Mrs Bittaye called on girls to be more careful and focus on their education saying men should not force them to do anything against their will.
Berre Sanneh, a member of the 'kanyeleng' group, said all mothers should come together and fight against issues affecting women and the girl child.
"Some men will impregnate a girl and deny the pregnancy, and nothing will come out of it at the end of the day," she said."Therefore, let's work collectively and bring the abuse of women and girls to a halt."
Read Other Articles In Article (Archive)