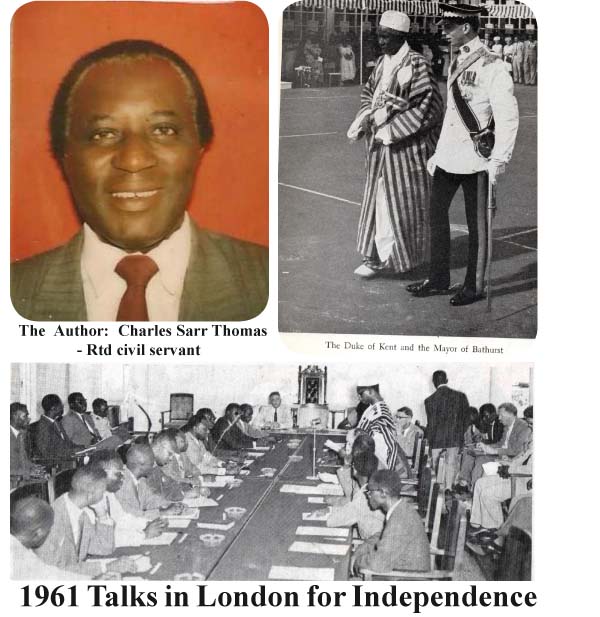 On 18th February 2015, The Gambia marks her 50th Anniversary of Independence (Political independence, that is) Fifty years ago an American writer/journalist by the name of Berkeley Rice launched his famous (or infamous) political work entitled 'Enter Gambia, Birth of an Improbable Nation'.The title seemed to many, including Rice's compatriots, a political pronouncement of deadly proportions. Why should an infant die before it is even born?Only Berkely Rice could have clarified.However that nascent nation has moved on since then, much beyond Mr. Rice's wildest expectations, to this present Gambia, a Gambia full of achievements and still full of promise.
But we now need to move on leaving behind Rice, and leaving behind 400 years of colonial rule and misrule, opportunities, as well as exploitation including raw materials and raw slave labour.One can write volumes on the administration, domination and legacy of the colonial era, but to what useful purpose?!
On 18th February 1965, the Duke and Duchess of Kent mounted the dais at 10:00a.m at the precise strike of the 'Garrison Bell', which still sits on top of Ministry of Finance to deliver the instruments of Independence that were to declare Gambia independent of British rule.That morning at what was named MacCarthy Square (named after British Colonial Secretary Sir Charles MacCarthy, and now July 22nd Square) the instruments of Independence were officially handed over to Prime Minister Sir Dawda Kairaba Jawara. The crowd at the square became suddenly intensely expectant.Then the declaration came, loud and unmistakeably: Gambia now ceases to be a colony of Britain and henceforth independent of British rule.All of a sudden a thunderous, rapturous applause all around the square; a lot of pomp and ceremony and jubilation – Tears of joy as the Union Jack rolled slowly down and the Gambian flag hoisted up to the top of the flag mast.More rapture and celebrations came centre-stage and were to continue all day, all week, for many weeks after.For a little bit of history, the flag was designed by late Louis Thomasi; the national anthem composed by man and wife: Mr Geoffrey C. Howe an Administrative Secretary and Mrs. Howe then a lecturer of English at the erstwhile Yundum Teachers College.One did the music and the other the lyrics.What a day of jubilation it was for the Gambian people as cultural groups tried to out-perform each other; fantastic display of gymnastics staged by PE expert James B. Abraham and his fine team of gymnasts; fireworks, drumming and louder drumming everywhere.The euphoria was almost electrifying.The official protocols over, the Duke and Duchess left the grounds in a black Rolls-Royce waved to the crowds to one side and then the other, beaming broadly with a seeming sense of personal accomplishment on the day.This ended the official ceremony; what followed was 'everybody's business'!
Political Scenario
From independence on 18th February 1965 to 22nd July 1994, D.K. Jawara, Prime Minister and later president,ruled independent Gambia.His government spanned about 30 years in all.Up to February 18, 2015, president Jammeh has been at the helm of things for 20 years.
Following a series of Legislative Council elections in 1951 and 1954 mainly based in the capital (Banjul) the Constitutional Conference of 1959 was organized to herald country-wide representation and participation, and to prepare the way for national elections'.The first national elections in The Gambia were held in May 1960.P.S. Njie and his United Party won, and he became the first Chief Minister in Gambian history.Jawara won the following elections of 1962 and became Gambia's first Prime Minister.Three years later The Gambia gained independence under Prime Minister Jawara and his government.
Eight (8) months after independence on 3rd and 4th November 1965, Jawara's proposal for Republic was defeated by 735 votes at the country's 1st national referendum; he had failed to get the two-third votes required.
Five years later the Jawara government doggedly came back and re-introduced the Referendum for attainment of status of Republic.This time around the proposal passed by a margin of at least 4000 votes and thereby gaining the required two-third votes.Thus ended our political ties with Britain.
Two years later in 1977 we had our 2nd national elections since independence and the 1st elections of the 1st Republic.The 4th and 5th April were the polling dates across the country.The PPP scored its biggest victory ever.The government newspaper at the time (GAMBIA NEWS BULLETIN) gave a good and accurate account of the results.The front page was conspicuously headed 'Landslide Victory for Sir Dawda?''NCP crushed'.According to that official news, the ruling PPP gained an overwhelming majority.NCP, the feared challengers, were able to win only 5 seats and a big number of their candidates lost their deposits.The PPP won 27 seats, the UP (United Party) won 2 seats, and the UP/NLP coalition none.Although the PPP victory was overwhelming, there were some major surprises and upsets.
Two important ministers and two Parliamentary Secretaries lost their seats.Hon Kalilou Singhateh, a party stalwart and Minister of Health, Labour and Social Welfare lost to NCP in Lower Baddibou; the other Minister was the Minister of Finance and Trade, Hon. Ibrahima Garba-Jahumpa who lost to the UP candidate in Banjul South (Momodou Taal).This latter result was one of the biggest upsets: in a very close contest, Taal gained 1,931 votes to PPP candidate's 1,621 votes.It was Hon. Jahumpa's first time defeat since independence.Parliamentary Secretary for Education, Youth and Sports Baba Touray lost to NCP opponent Foday Jammeh in Illiasa;Parliamentary Secretary A.K. Njie of Works and Communications lost in Bakau to NCP.At the end of the day members of the House of Representatives remained the same except for the new Victors:Momodou Taal (UP); Omar Makalo, Bakary Camara and Foday Jammeh all of NCP; and Kelepha Samba, Omar Jallow, Seni Singhateh, and Dembo Jatta all of PPP.One of the severest trouncing in those elections took place in Tumana, Upper River, where PPP's Muhammadu Cadi Cham (Minister of Education, Youth and Sports) beat his NCP opponent by a grand total of 5,500 votes to just 84.NCP leader Sheriff M. Dibba maintained his seat convincingly in Central Baddibou; while UP lost Banjul North for the first time in election history.
Following this election performance, PPP political dominance grew more and more overwhelming to the point where Gambia could have been a one-party state.At a later stage with no credible opposition in sight, PPP itself started breaking into two or even three factions causing internal splits, wrangling, and competing allegiances.Things continued that way up to and until 22nd July 1994.
On 22nd July 1994, the AFPRC took over the reins of power in a military coup, and ushered in the 2nd Republic.The AFPRC ruled by Decrees for a transitional period of two years.It later changed name to APRC, and as civilians have been winning elections since, their best performance being the landslide victory of 2011 elections.
PPP led the silver Jubilee in February 1990;the APRC now leads the nation to its Golden Jublee in February 2015.Altogether PPP ruled for 30 years while APRC has ruled for 20 years so far.Can economic development be compared during these two periods?
ECONOMIC DEVELOPMENT
So much for political developments. We could now take a quick look at development.In very short form, the PPP government successfully completed the dual carriageway (Banjul/Serrekunda) and Kairaba Avenue, Coastal Highway, renovated and improved Royal Victoria Hospital, promoted river transport introducing MV Lady Wright, Fulladu, and MV Lady Chilel.Agricultural production was high with seed multiplication and fertilizer projects.Rice cultivation was increased by the Small Scale Water Control and Jahally Pacharr Small Holder Projects both in CRR.
For the provinces, there were a host of 'Tesito' projects approved by British Government under a D20 million grant during the Five-Year Plan period of late 70's early 80's.The projects covered all the Divisions and included projects like day care centres, sub-dispensaries, community centres, seed stores, livestock watering points. Bigger projects seemed to have come to the drawing board but never quite executed.These include a national television, a modern airport, educational institutions, major trunk roads including the North Bank stretch including Laminkoto – Passimas; the Banjul – Soma – Basse, Trans – Gambia, etc.However these were not actually realized, and many of them eventually undertaken by the APRC during the transitional phase and subsequent to it.
The APRC undertook and successfully completed a great number of projects: infrastructural projects, major hospitals, host of schools at Basic and Secondary level; a University and other tertiary institutions.The list is a long one:It has in fact been one major project after another, from the transition phase to the present.The big projects still continue rural electrification being at the heart of regional development programmes.
(2ND PART TO BE CONTINUED – on Comparison between the Two Republics)
Read Other Articles In Article (Archive)