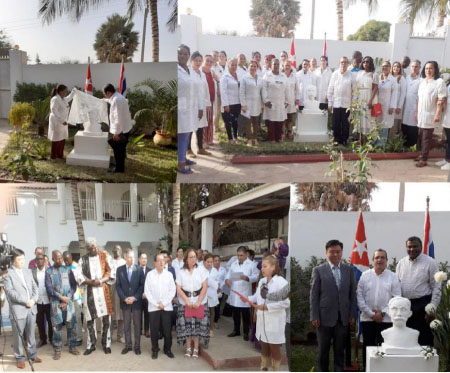 Banjul - The Cubans who work in the Gambia are happier as of this January 28 because for the first time in history they will have in this beautiful land of West Africa a bust of the National Hero of the Greater Antilles, José Martí, unveiled on occasion of the 167th anniversary of his birth.

The sculpture of the Apostle, created by Gambian artist Francis Colmbegan Colley, was inaugurated this Tuesday at the Banjul Headquarters of the Cuban Diplomatic legation of the Caribbean nation.
In the emotional solemn act, in which Martí's poems, interventions in tribute to his work and fight for the independence of his country and Our America, and of him over Africa, were mixed as the blood of Cubans and the peoples of this continent of the future.
The event was attended by a representation of the Cuban Medical Brigade in the Gambia (BMC), the Minister of Health H.E. Ahmadou Lamin Samateh, Deputy Madi Ceesay, the Chinese Ambassador H.E. Ma Jiannchun, the Turkish Ambassador H.E. Tolga Bermek, the President of the Gambia-Cuban Friendship Association, Modou Grant, in addition to several of its members, and young graduates in the Caribbean Island, among other guests.
Cuban collaborators, and Gambian friends, deposited white flowers before the Apostle's bust, after being unveiled by the Ambassador here of the Dean of the Antillean archipelago, Rubén G. Abelenda, and by the head of the BMC, Anaris Martha Odio.
Touching were the poems of Martí, declared in Spanish and English, by young members of the BMC, as well as a text about his life and work.
The activity was closed by Ambassador Abelenda, who cited several phrases written by the Cuban National Hero about Africa and Africans, including the following:
"There is in his horror and joy something supernatural and wonderful that does not exist in the other races, and he remembers in his movements and looks the majesty of the lion: there is in his affection a loyalty so sweet that he does not think of dogs, but in the pigeons: and there are in their passions such clarity, tenacity, intensity, which resemble those of the sun's rays".
Read Other Articles In Article (Archive)