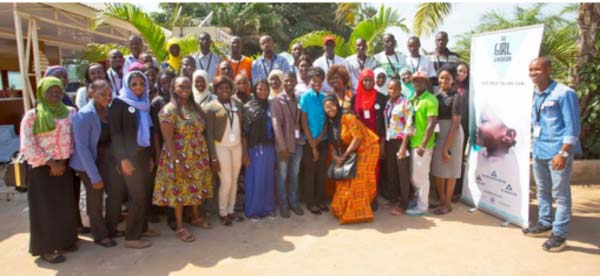 The Girl Generation (TGG) yesterday commenced a five-day training of trainers on female genital mutilation social change communication.

The training at Baobab Holiday Resort, Bijilo, brought together 40 participants from five regions of The Gambia.
Organisers said the training is meant to provide social change communications for members of the organisation and partners.
After the training, the participants are expected to deliver effective social change communication to their various communities.
Speaking on the occasion, social change communications manager of TGG, Asenath Mwithigah, said FGM is the greatest human right violation of girls and women but with concerted effort it can be changed within a generation.
"FGM is everyone's issue and ending it is everyone's responsibility; together we can create a world that is safe for girls and women," she said.
She explained that the training is being focused on social change communications because there is a need to look for a positive transformation in the way the society value girls and women and the social norms that underpin FGM.
Mrs Mwithigah further noted that people practice FGM out of love so in order to change that there is a need for education and awareness creation on the ills of the practice.
"Communication has the power to positively influence the various fabric of society," she affirmed. "This is why we deemed it wise to use communication to provide a safe space for individuals in the communities to dialogue and debate about issues."
She noted that so many advocacy process and strategies have been going on for long but FGM prevalence in The Gambia is still at 75 per cent hence the need for change in advocacy strategy.
"FGM should be talked about in a sensitive way so as not to demonise the survivors," she said.
Mary Kioko, grants manager at TGG, said the training is part of a grant TGG received from Human Dignity Foundation towards ending FGM.
She said as part of the grant, TGG is working with 10 African countries including The Gambia, and they are still open to receive applications from organisations, networks and individuals working on ending FGM.
"The funds are here for the people so let people apply," Mrs Kioko said.
Amat Cham of Women's Bureau said FGM is a deep-rooted culture but it can be "eradicated in a generation".
He said the continuous training and sensitisation would help in the fight against the practice.
TGG is a global campaign that supports the African-led movement to end FGM. The campaign amplifies the issue on the international stage and brings attention to inspirational stories of change from some of the most affected countries in Africa including The Gambia.
Read Other Articles In Article (Archive)