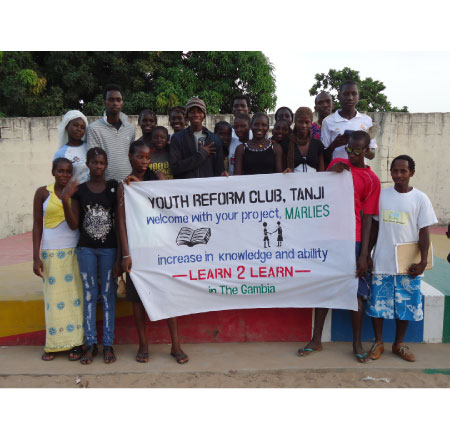 The community of Tanji in Kombo South of the West Coast recently witnessed the launching of Youth Reform Club under the auspices of the village theatre group.
The first youth reform club in the fishing coastal village is headed and couched by Marlies Vernoh, a Dutch first-class actress, song writer and an artiste par excellence, also a member of the Go for Africa human charitable NGO operating in the country.
The launching was characterised by display and exhibition of talents and skills by young people of the village, who posed to make a different approach to their lives, the community, the country and beyond through learning of various skills and knowledge.
As pointed out on the banner displayed by the aspiring and energetic youths, "Increase in knowledge, ability to learn in The Gambia", they will be exposed to series of realities relating real life stories across the globe including The Gambia and beyond.
According to the objectives of the programme, the village youths will compose of songs and stories relating to some of the key issues affecting overall development objectives in Africa including The Gambia, especially those have to do with illegal immigration of youths through perilous sea voyages, attitudes of some youths towards their own development programmes either through education or skills acquisition.
In a brief chat with Marlies Vernoh, head of the youth reform club, gave a detailed historical overview of the club right from the start to the launching.
According to her, the idea of forming the club was initiated in her home country of Holland for implementation in The Gambia, as part of efforts meant to have lasting impressions on the minds of the young people of the country by giving meaningful skills and knowledge in life.
She spoke about the need for young people to have access to the right information at the right stage of their development to prepare them for future challenges.
According to her, the club will conduct performance on a story that contains a vital message aimed at educating children, especially schoolchildren, through regular performances in schools within and outside of Tanji village and communities.
She seized the opportunity to reveal what she called the coming of her female partner to join her in teaching of the youth club and tour of schools and communities across Kombo South and beyond, spreading the message.
She emphasized that the programme is part of the objectives of the Go for Africa NGO, towards achieving sustainable development in Africa and The Gambia in particular, as indicated in starting of their operations in the country.
Read Other Articles In Article (Archive)