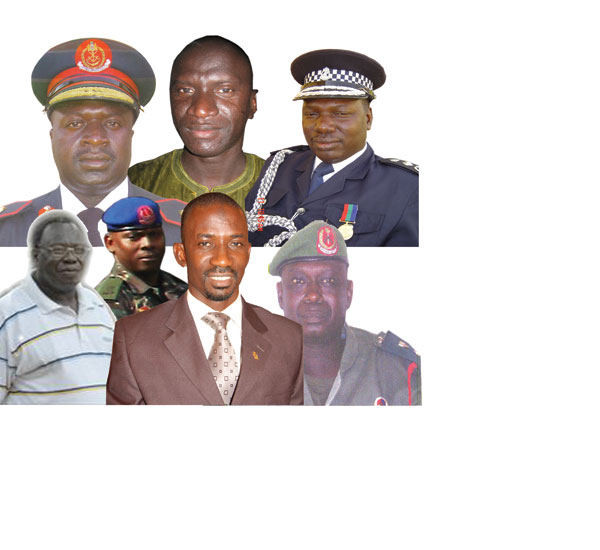 The President of the Gambia Court of Appeal, Justice Joseph Wowo, assisted by two other Judges, Justice Na Ceesay Sallah Wadda and Justice J.B, has set 14th April 2011 as the day the appeal court is expected to deliver judgment in the appeal filed by the jailed ex-chief of defence staff, Lt .General Lang Tombong Tamba and six other men.
This followed yesterday's adoption of briefs submitted by both the appellants and the state respondent.
All the seven appellants are appealing against the death sentence handed down by the High Court in Banjul, in July last year, after been found guilty of plotting a coup against the Gambia government.
The other appellants are Brigadier General Omar Bun Mbye, former Director of Operations and Training at the Gambia Armed Forces, Col. Lamin Bo Badjie, former Chief of the National Intelligence Agency, Modou Gaye, former Deputy Inspector General of Police, Gibril Ngorr Secka, former Deputy Gambian Ambassador to Guinea Bissau, Lt. Col. Kawsu Camara (alias Bombardier) former Commander of Kanilia Camp and Abdoulie Joof, a local business tycoon.
Senior counsel for the appellants, PCO Secka, urged the court to adopt his briefs filed on behalf of the appellants and dated 7th February 2011 and the reply to the state respondent's briefs also filed on 7th March 2011.
PCO Secka, who led the team of defence counsel, including S.M. and R. Thomasi, then said: "I urge my lordships to accept all the arguments therein. My lords, I want the court to uphold the appeal on all the grounds and to set aside the decision of the high court that convicted the appellants and order for their acquittal and discharge.
The State respondent, represented by the Director of Special Litigations at Attorney General's Chambers, Daniel O. Kulo, also urged the court to adopt the respondent's brief.
"We have filed the respondent briefs on 25th February 2011 and my colleagues have been served".
He also amended the briefs by adding two lines, citing Section 181 of the Evidence Act.
"I seek to adopt my briefs as amended," Kulo told the superior court.
Justice Wowo at the end of yesterday's proceedings commended both parties for their brilliant arguments.
PCO Secka, also on the same day, replied on points of law to the arguments raised by the state respondent represented by DO Kulo.
Read Other Articles In Article (Archive)