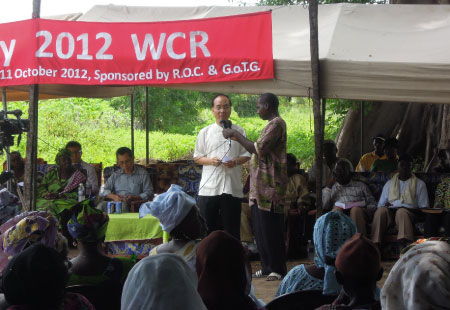 Following the successful implementation of the 2012 upland Rice Expansion Program sponsored by the Taiwanese Government in the West Coast Region, a field day activity was held at Bintang village in Foni Bintang-Karanai district of the West Coast Region on 11th October 2012.
The event was graced by Samuel Chen, ambassador of the Republic of China (Taiwan), Sheriffo Bojang, deputy permanent secretary, Ministry of Agriculture, deputy WRC Governor Fatou Sanyang and the regional director of agriculture along with the chief and the representatives of villages.
After the inspection of the rice field, the Regional Director, Ebrima Saidy, thanked the Government of the Republic of China (Taiwan) for their immense contribution and continuous support to the agricultural sector.
Other speakers included the deputy Governor of WCR Fatou Sanyang, Sheriffo Bojang, deputy permanent secretary Ministry of Agriculture and ambassador Samuel Chen.
In his remarks, Ambassador Chen said that between the period of 2009-2012 the Upland Rice Expansion Program covered 5142 hactares of land to which 308 metric tonnes of seeds, NPK: 514 metric tonnes and Urea: 257 metric tonne were supplied.
"In preparation for the expansion, 7370 people were trained. All of this is done to help in the realization of President Jammeh's Vision 2020 and quest for food self-sufficiency for The Gambia," he said.
He stated that the crop yield and harvest this year was very good, thanks to God for the good rains and winds.
He urged the young men to go back to the land for more man-power in the agricultural development sector.
This he said will help improve productivity and the national economy.
According to him, this was the first field day held among the six Regions of The Gambia this year, and highlighted that WCR have the best harvest so far, and he wished them continuing success.
Read Other Articles In Article (Archive)