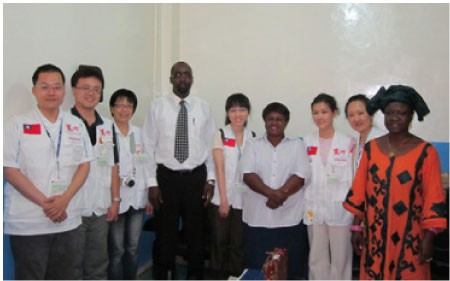 Mackay Memorial Hospital (MMH) in Taiwan has dispatched a team of six medical and nursing personnel to Republic of The Gambia.
According to a media dispatch from the Taiwanese embassy, the team would be in the country from the 8 to 20 October 2012.
Already the release added, the team since their arrival in the country Tuesday paid a courtesy call on the Ministry of Health and Social Welfare.
They have started to give medical services at Serekunda Hospital from the 9 to 11 October, 2012.
The team would be at the Jammeh Foundation for Peace Hospital on the 12, 15 and 16 October, and at Brikama Major Health Center from 17-19 October, according to the press release.
It further revealed that surgical service will be rendered at Serekunda Hospital from 10 to 19 October.
"There have been three MMH medical teams to The Gambia since August 2010. This forthcoming visit demonstrates the long-standing commitment of both governments of the ROC (Taiwan) and The Gambia to promoting the well-being of the people in The Gambia," the release stated.
Inspired by the core value of "Burn out oneself, rather than rust out", MMH overseas mobile clinic has delivered medical goods and services to over 12,000 people in Africa, Asia-Pacific, and Caribbean countries from October 2006 to September 2012.
Meanwhile, Taiwan ICDF has dispatched Dr. Amon YANG as chief coordinator for "Improve Maternal Health Program in Upper River Region (URR) from 2012-2015." This programme is jointly sponsored by the governments of Taiwan and The Gambia.
The main aim is to enhance the capacity of Gambia nurses and midwives at URR so as to promote the maternal well-beings at Basse and beyond.
Dr. Yang has called on Dr. Makie Taal, Permanent Secretary of Ministry of Health, and some health units and hospitals etc. to exchange views and ideas to implement the program.
Read Other Articles In Article (Archive)