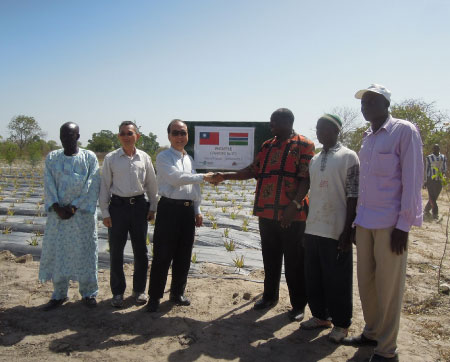 Ambassador of the Republic of China (Taiwan) H.E. Samuel Chen and Hon. Solomon Owens, the Minister of Agriculture on March 30th 2013 inspected the recently donated 3,000 pineapple seedlings planting at the President's Farm in Kanilai.
According to a media dispatch, issued by the Taiwanese embassy, this is the development of "The Gambia Fruit Test Planting Project," executed jointly by the Taiwan Technical Mission (TTM) and National Agricultural Research Institute (NARI) in The Gambia.
The dispatch further disclosed that the first batch of the Gambia-produced pineapples was harvested in Banjulinding in December 2012 and that the produce was of excellent quality.
"Following the successful experience of planting pineapples, the Embassy of Taiwan specially imported 3,000 strains of Tainung No.17 variety of pineapple seedling from Taiwan and presented to the President, H.E. Shiekh Professor Alhagie Dr. Yahya A.J.J.Jammeh.
These 3,000 pineapple seedlings have been planted at the President Farm (1,200 square meters) in Kanilai on 28th March. TTM applies the silver and black plastic sheeting covering technique. It can control effectively weed growth and reduce soil moisture evaporation. It also can avoid the contact of the plants and soil to reduce the incidence of pests and diseases," the release added.
Pineapple fits to high temperature and it is a kind of drought tolerant fruit. With the average monthly rainfall of 100 mm, it can be successfully grown. For the Gambian dry season, which is without rain for 6 to 8 months, the pineapple still can grow smoothly, if for every 2 weeks to one month, 1 litre of water can be supplied to each plant.
Commenting on the development, Minister Solomon Owens lauded the outstanding work of TTM and the silver and black plastic sheeting, covering technology which is operated by the TTM.
He expressed hopes that this technology can also be extended to other vegetable crop productions in The Gambia.
Read Other Articles In Article (Archive)