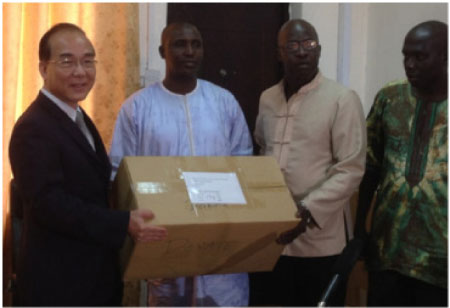 A 40-foot container, full to capacity with learning and teaching materials was on Tuesday donated to the Ministry of Basic and Secondary Education (MoBSE), by Taipei American International School through the Gambian Embassy in Taiwan.
Speaking at the handing over ceremony held at the MoBSE conference room in Banjul, H.E Samuel Chan, Ambassador of the Republic of China on Taiwan, said it was an honour to bring the materials for Gambian students.
According to him, the gesture was made possible thanks to the good existing relationship between the two countries. He expressed hope that the books would be useful to Gambian students.
Alhagie Martin, The Gambia's deputy Ambassador to Taiwan, said over 200 Gambians are currently in Taiwan learning in various academic institutions.
Noting that the Gambian students in Taiwan are at the top in terms of their academic performance, Mr. Martin thanked the President for the cordial relation he has established with the Republic of China on Taiwan.
He also hailed the Taiwanese Ambassador to The Gambia for his interest and concern for Gambian students in Taiwan.
Baboucarr Boye, the permanent secretary at the Ministry of Basic and Secondary Education, said he knew the type of school materials used in Taiwan, noting that he was convinced that the materials would be first class quality.
While stating that they appreciate the gesture, he thanked the people of Taiwan for considering their brothers and sisters in The Gambia.
He concluded by remarking that they will work with schools to see that the materials are put into good use.
Read Other Articles In Article (Archive)