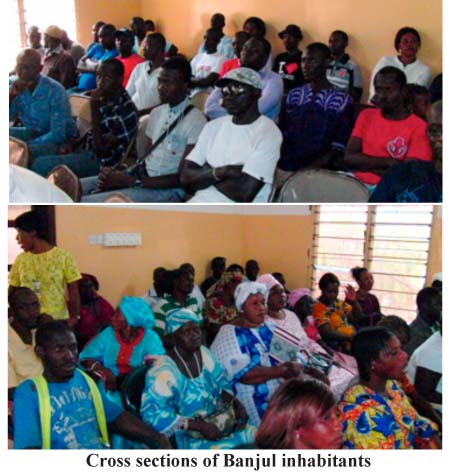 Tahawal Banjul in collaboration with Team Banjul on Tuesday 7 March 2017 selected 3 candidates for Banjul South, Central and North respectively, to represent them in the forthcoming National Assembly elections.

The selection was made at a primary election held at the St. Mary's Hall.
The election was meant to ensure a level playing field for the collective good of Banjul.
The candidates selected during the initiative, which is the first time in the history of Banjul, are Fatoumatta Njie-Batchilly for Banjul South, who was unopposed, Ousman Sillah for Banjul North, who was also unopposed after his fellow contender, Dr Pa Ousman Njie, declined.
In the Banjul Central contest, Muhammed Ndow beat fellow aspirants Author Jackson and Momodou B. Ceesay, securing 87 votes out of 146 votes casted by the constituency.
Speaking on the occasion, Dr. Alieu Gaye, chairperson for Tahawal Banjul, said the importance of staging the primary election was that they wanted to ensure all those from Banjul, who wanted to contest in the National Assembly election, are on a level playing field, but also for them to select the best candidates for the city.
"In the coming weeks, they will listen to people's opinion and if people welcome the idea, then they will use the same format for the municipal election and subsequent elections in the country."
They want other constituencies to emulate the initiative and, hopefully, it could be adopted nationally to ensure free and fair elections.
Ebou Faye, speaking on behalf of Team Banjul, said when they first conceived the idea, it was to give Banjul an opportunity to know and select their candidates, as well as ensure candidates selected are persons who will work in the best interest of Banjul.
Fatoumatta Njie-Batchilly, in pointing out her priority areas if elected to become National Assembly member for Banjul South, said child care, women's empowerment, development, education, sanitation, healthcare, among others, will be her main focus.
Ousman Sillah promised to partake in the institutional and legal reforms, good governance, and the introduction of a term limit, among other things.
Muhammed Ndow promised his people that he will defend their human rights, facilitate entrepreneurship training, as well as introduce other important development activities for his constituency.
Read Other Articles In Article (Archive)