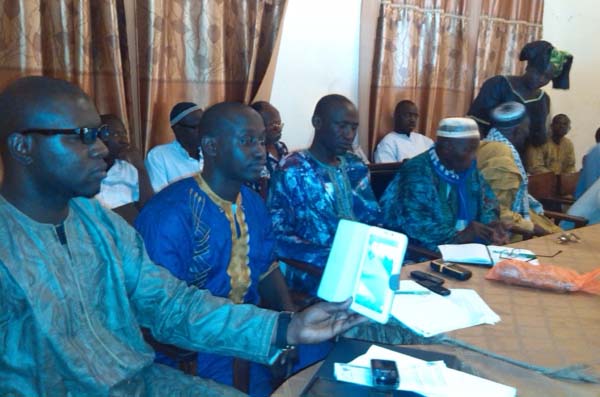 The West Coast Region Technical Advisory Committee (TAC), National Assembly Members, chiefs and women mobilisers were Friday sensitised on the forthcoming launching of the cervical cancer vaccination campaign to be held in Brikama on 13 November 2014.
The forum held at the Governor's Bantaba was organised by the Health Communication and Education Unit in collaboration with the Expanded Programme on Immunization in collaboration with the West Coast Regional Health Directorate under the Ministry of Health and Social Welfare.
In her remarks, the Governor of WCR, Aminata Sifai Hydara, highlighted the importance of health to national development, adding that the campaign would go a long way toward preventing the Grade 3 girls and their peers out of school in the West Coast Region from contracting cervical cancer.
She thanked the Ministry of Health and Social Welfare for their efforts in bringing health to the doorsteps of every Gambian.
The regional public health officer, Sandialy Trawally, commended the people for their turnout, noting that it demonstrated that the region attaches great importance to health and national development.
The EPI communication officer, Saharu Kanteh, said every year cervical cancer causes hundreds of thousands of premature deaths among women in sub-Saharan Africa, including The Gambia.
According to him, more than 80 percent of cervical cancer cases in The Gambia are detected in the late stages, which was associated with the very low survival rate.
He explained that majority of HPV infections are resolved spontaneously and do not cause the symptom of disease, adding that a persistent infection may lead to precancerous lesions if untreated.
Kanteh further said that there are no symptoms in the early stages of cervical cancer, stressing that cervical cancer could lead to excessive bleeding, genital infection and kidney failure among others.
He told the gathering that the vaccination would start on November 13, targeting all Grade 3 girls and their peers out of school in the West Coast Region.
Abdulie Janneh noted that vaccination teams would be based at fixed locations such as schools, health centers and community bantabas and the person would receive only two injections at six months intervals. This, he added, could protect against genital warts and other cancers like anal, oral among others.
The regional health promotion officer, Lamin J. Jorbateh, noted that the project would be piloted in the West Coast Region, and if successful would be extended to other parts of the country.
He commended the Ministry of Health and Social Welfare and thanked partners such as UNICEF, GAVI and WHO for their collaboration.
Read Other Articles In Article (Archive)