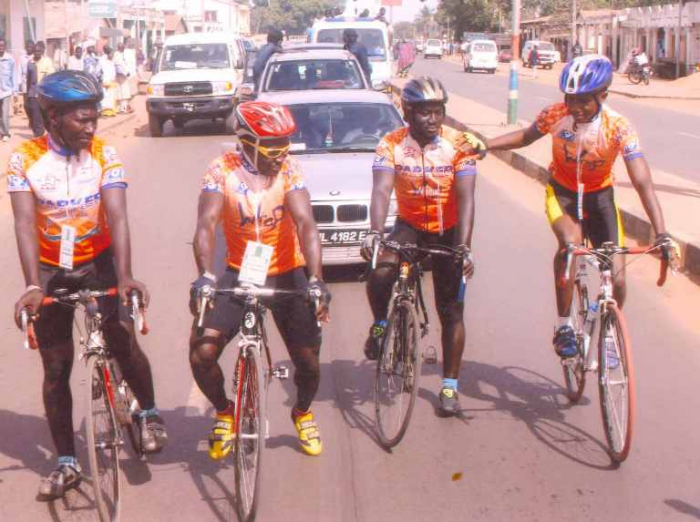 The Gambia Cycling Association on Sunday organised a cycling race from Banjul to Brikama sponsored by Gamstar Insurance Company Limited.
Sulayman Colley, who came out first,  took  3hours 10minutes and 12seconds; the second winner Amadou Bah made it in 3hours 10minutes and 58seconds; the third winner is Abdou Kadir Jallow, 3hours 11minutes and zero seconds.
Only eight people were qualified for the Gamstar 117km Cycling Race 2012 Championship.
Sulayman Colley, winner of the Gamstar Cycling Championship for 2012, said he was very impressed with his performance in the Cycling Race 2012 competition. He thanked Gamstar for encouraging young Gambians to always be in sport and for taking the Gambia cycling to higher heights. 
Abdoulie M. Touray, president of the Gambia Cycling Association, speaking at the ceremony, said he was very grateful to witness another cycling race competition, sponsored by Gamstar.
He also thanked the Ministry of Youth and Sport and the National Sports Council.
"Keep it up to help the young cyclists to continue a good career on cycling," Mr Touray said.
Bai Ndongo Faal, Managing Director of Gamstar Insurance Company Limited, also stated that in July 2012 they will be sponsoring a cycling race from Kanilai to Banjul.
He said Gambian cyclists are also participating in Senegal and other in countries and that he is very grateful that the Gambians are taking part in international competitions.
Modou Njie, head coach of the Gambia Cycling Association, thanked Gamstar for their great Job.
Gamstar is always working hand in hand with them, he says.
Edrissa Sah also thanked the cyclists for coming out to show their talents to the Gambian people "so the young ones will also be part of these competitions in The Gambia and in international competitions".
The first winner received D2,000 with a certificate; the second D1,500 award; and the third collected D1,000. Furthermore, all the participants went home with certificates.
Read Other Articles In Article (Archive)