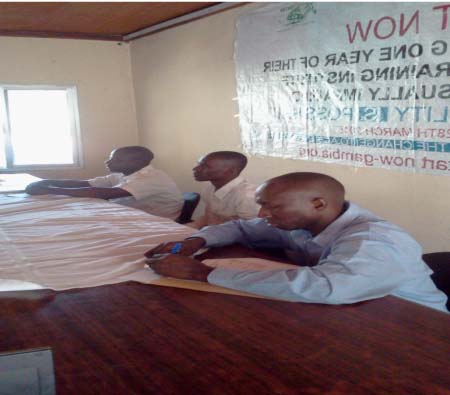 Start Now Organisation, a local organisation aimed at empowering blind and partially sighted people for a better future, at the weekend celebrated International Women's Day on theme "Inclusion and protection of the rights of women with disability".
The programme, held at Gambia Red Cross Office in Brikama, was supported by the International Visitor Leadership Programme (IVLP).
Dr Almami Taal, president of IVLP in The Gambia, said IVLP is an association sponsored by the U.S. to enable people to go visits institutions to learn the best practices and leadership skills that they can utilise.
"In 2007, I went to this programme but apparently it has been in existence since The Gambia became independence some 50 years ago," he said.
Since independence, the US government has trained a lot of Gambians through the IVLP to become better leaders.Membership to IVLP is open to those who attended the IVLP.
Through short-term visits to the United States, current and emerging foreign leaders in a variety of fields experience the country firsthand and cultivate lasting relationships with their American counterparts.
Alieu Jaiteh, director of Start Now Organisation, said there is a great need for visually impaired and any other person with disability to able to live an independent life and contribute positively to society.
Mr Jaiteh, visually impaired, said his passion and dream is to create a social change that will lead to high percentage of visually impaired people enrolling in higher education and various qualified jobs in The Gambia and Africa as a whole.
As part of the forum, he made a presentation on how ICT has helped blind people to become independent, saying disability should not impair anyone's full and effective participation in society.
Antumana Sallah, a science student at the University of The Gambia, said disability is the consequences of an impairment that may be physical cognitive, mental, sensory, emotional developmental.
He added that it could also be a combination of the above factors that result in restriction on an individual's ability to participate in what is considered normal in their everyday society.
Mr Sallah said although disability by birth might not be prevented, disability associated to diet habit which causes cancer, diabetes, etc. could be prevented.
Madam Anna Nancy Mendy, PEO special needs units under the Ministry of Basic and Secondary Education (MoBSE), said the education policy has all inclusion of children with special needs in schools.
The policy has provision that children with mild and moderate disability to be admitted into mainstream schools while those with severe special needs be admitted in special needs schools.
Read Other Articles In Article (Archive)