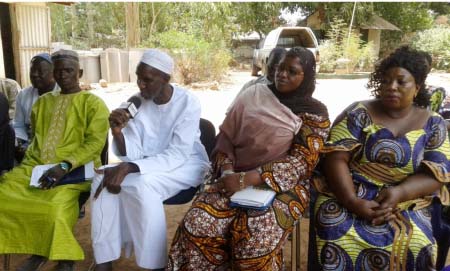 The director general of agriculture has spoken of the importance the Department of Agriculture attaches to increase food production and productivity and by extension to promote value chain addition on farm produce to the attainment of food security and sustainable livelihood development.
Falalo Touray was speaking on Friday at one day regional Innovation Platforms on maize and rice value chain addition to enhance food self-sufficiency.
The convergences were held in Kerewan and Kerr Jarga Jobe in the North Bank Region.
Director General Touray called on farmers to liaise with frontline extension workers for transfer of appropriate farm practices and technology to enhance food security and income.
He noted that the adoption of value chain addition on food commodities would boost farmers' income and contribute to poverty reduction.
Ansumana Jarju Director General of NARI who doubles as Innovation Platform Consultant hailed farmers for their steadfastness on food production and value chain actors on contributing to food diversification and marketing of farm produce.
The two days provided opportunity to learn knowledge and skills on the preservation methods of various food species through value addition on maize, rice and other cereals with the view to enhance food diversification.
He noted that the convergence brought together producers, processors, marketers, transporters and promoters to discuss challenges, achievements and chart a way forward.
Director General Jarju said significant achievements were registered on yields per hectare from 1 to 3 tons on maize with support from West Africa Agricultural Productivity Project WAAPP in the past.
He thanked the president for championing and transformation of agriculture, providing affordable fertilizer to farmers and input to NARI to enhance generation of improve seeds.
Deputy Governor Mustapha Saidy lauded NARI and WAAPP for their support to the farming population to enhance food production and diversification.
He called on people's to support President Jammeh's efforts in championing 'eat what we grow and grow what we eat'.
Saidy called on maize growers to increase food production and value chain addition to attain food self-sufficiency.
Aja Ramatoulie Hydra, monitoring and evaluation officer of WAAPP, expressed delight on her office resolve in supporting farmers to attain sustainable food production.
She said the promotion of Innovation Platforms calls for concerted effort of all stakeholders to ensure food availability.
Mama Manneh, executive director of Njawara Agricultural Training Centre, Alasana Bah, acting regional agricultural director for NBR, and Chief Fabala Fadia Kinteh of Lower Badibou, hailed the intervention of NARI and WAAPP for their support to the attainment of food security and sustainable livelihood development.
The community leaders called for strengthening and network among regional platform to enhance effective dissemination of technology transfer of best farm practices.
Farmers shared best practices on processing methods, packaging and labeling to promote value addition and marketing of food commodities.
Innovation platform members thanked NARI and WAAPP for their invaluable support to farmers in adoption to new innovation technique to attain food security and income of farmers.
Read Other Articles In Article (Archive)