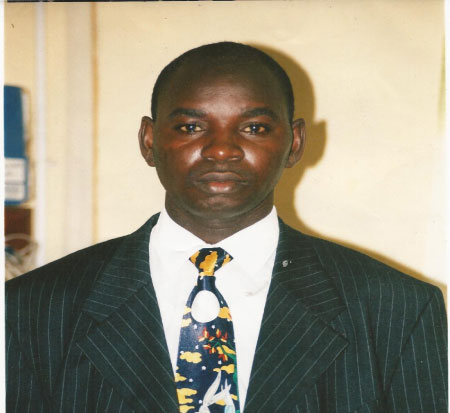 Doctor Seedy Drammeh may be counted as one of The Gambia's high achievers. He has studied in the UK and the USA, has a doctorate degree in business administration and is the author of seven books on subjects ranging from office politics to job hunting. He has taken full advantage of every opportunity in life. But these opportunities were by no means just handed to him. He had to work for them, overcome great obstacles and make his own luck.
He was born in 1971 at Si-Kunda village in Lower River Region to Fatou Ceesay and the late Sana Drammeh. He attended Soma and Pakalinding primary schools from 1984 to 1986 and then progressed to Tahir Ahmadiyaa Muslim High school where he stayed until form three.
 It was at this time that his father, Sana Drammeh, sadly passed away. The family faced serious financial problems and Seedy was forced to drop out of school for two years. Rather than accept his fate, he decided to move to the Kombo to look for an opportunity to continue his education.
His bereaved mother was sad to see him leave. He says: "To my surprise when I approached my mother to share my decision to leave the village for the city to look for greener pastures, she cried to the point that I almost regretted what I had told her!"
It took his mother some time before she could listen to what Seedy had to share with her. But in the end, she supported the idea. However, she was worried about her son. Where would Seedy stay? What would happen to him if he could not realise his dream of continuing his education?
Seedy says this was a difficult moment in his life but he was undaunted.  He was able to convince his mother that it would not be a problem to find a place to live in the Kombo. He was ambitious and believed that if only he could get to the Kombo he would be able to find a way to return to school without burdening his family.
He eventually got to the Kombo and would walk every morning from Talinding to Westfield junction where he would try and catch a lift to Banjul. On some days he would get lucky but on others he would be unable to get transport and would have to return home after long and fruitless hours of standing by the Banjul highway.
All this time he was trying to get sponsorship to continue his education but without luck. He says: "As time went on, I realised that I had sent enough letters to difference places and that I needed a break. I needed to start thinking about doing something else before any luck could come my way. At this time there was Senegalese contractor who was engaged in a construction project just 400 meters away from where I was living."
Seedy approached the contractor for work and was accepted as a casual worker. He fetched water, mixed cement and supplied the masons from almost eight hours a day, five days a week. He was paid D15 a day. He continued in this job for six months while he waited for a reply to one of the many letters he had sent seeking support for his education.
When asked if he enjoyed such hard work, Dr Drammeh says: "To be honest, I did enjoy the job for a number of reasons. First, it provided me with the opportunity to buy a D200 bag of rice for my mother back home every month. Secondly, I was able to use the rest of the money on things like soap to wash my clothes and fares on days when he I was excused from work."
"It was a difficult moment in my life but I was never discouraged and I kept moving on in the belief that one day things would be better for me."
Things did get better. Seedy was lucky enough to eventually get funding to complete school and then to get the opportunity to study in the UK. He arrived in London and found it very different to The Gambia.
He explains: "When I first arrived in the UK it was like I had achieved my aim in life. Even on my second day, I wanted to get out and see what was happening on the streets of London. But my curiosity led me to my first disappointment when I was told that I needed to get permission from my host before I could go out."
"This seemed so funny to me because I could not imagine obtaining permission from someone to go out while I was at home in The Gambia!"
But he eventually decided to comply as he was in a foreign country. He says: "My host took me out on the streets of London, a walk that lasted for just ten minutes before we returned to the house for lunch. To be honest I spent almost a week indoors watching TV before my host accompanied me to South Chelsea College in Brixton for registration."
This was the start of an education which would see him acquire numerous diplomas, a degree and a PhD from the University of Belford, USA.  He has now returned to The Gambia where he works as human resources and administration manager at the Gambia Revenue Authority.
His success and experiences have prompted him to write a number of books offering advice to others on subjects such as productive office work, job hunting, and surviving office politics and achieving success. He says: "I am inspired by people who publish books to educate the masses. I have read so many books which have inspired me."
His latest book, 'Tribute to the Late M.K Tambajang', received accolades from the office of the vice-president and he was congratulated in person by the vice-president Dr. Isatou Njie-Saidy.
Dr Drammeh has certainly come a long way since the days of mixing cement for D15 a day.
Read Other Articles In Article (Archive)