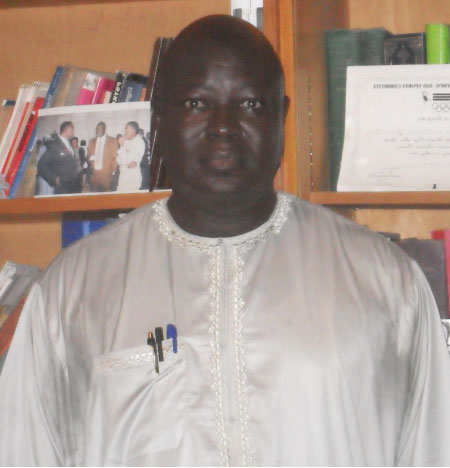 Hello and a warm welcome to yet another scintillating edition of Personality of the Week, your weekly edition aimed at bringing prominent Gambian top notches and achievers into the limelight. 
In today's edition, we bring you the profile of a man who has exemplified, and in fact proved beyond reasonable doubt that the Gambia can indeed boast of having world class medical practitioners.
He is Dr Adama Ahmadou Sallah, a pediatrician and physician, who is currently the Director of Lamtoro Medical Services, The Gambia.
Having already left an indelible mark in all corners of society, there is no doubt that Dr Sallah has today earned the respect of many Gambians owing to his indisputable loyalty, honesty, simplicity, handwork and commitment to duty.
His ability to succeed has been established beyond any doubt. He could pass unnoticed save for the aura of greatness that speaks more of him. His impressive track record coupled with his diverse job experience has prepared him to face the challenges of his current position. It has also put him upright as one of the greatest citizens that this country has ever produced.
Born at No.8 Kent Street in Banjul in December 1948, Dr Sallah is the third son of the late Ahmadou Sallah and Mrs Haddy Sallah. He grew up as a boy at No. 43 Half Die and started his schooling at the then Adult School in Banjul, a school for over age students.
In his views, Africa can only develop if well trained Africans decide to work for the betterment of the continent.
"I started work at a clinic in Banjul where I spent two years but the realized that sitting in someone's clinic was not really what I wanted; I wanted something more broader, more sophisticated and more developed so that I can apply my skills," Dr Sallah said in a chat with Columnist Lamin B. Darboe.
This, he said, was how he established his own clinic (Lamtoro). "I then invited some of my colleagues to join me to work together so that we can develop the clinic to a special level where Gambians and non-Gambians alike can enjoy quality service delivery," he explained.
"It is still not exactly what I wanted it to be, because I have trained European senior specialists here at the clinic and each of us has served more than thirty years of practical experience in genecology, surgery, peadiatric among others," Dr Sallah stated, adding that the knowledge and experience available at Lamtoro clinic is what makes their international linkages very strong.
"In fact we are more respected outside The Gambia than within the country," he said, noting that medical practice is not a short term process but a continuous process, which one has to develop gradually over time.
High School and University Education
He sat forth his educational journey at St. Augustine Secondary School in 1966 then to Granna International High School in Granna, Sweden in 1969, where he did his GCE A-Level.
From Granna International High School, Dr Sallah proceeded to Stockholm University, Faculty of Physical Chemistry, Stockholm, Sweden in 1970, from where he also proceeded to The Karolinska Institute from 1973 to 1976.
Professional Training-Housemanship
From 1976 to 1978, Dr Sallah did a housemanship at the Jonkoping Country Hospital, Jonkoping, Sweden, then to Department of Chronically ill; Department of Internal Medicine; Department of Orthopaedic Surgery; Department of Anaesthesiology and Intensive Care; Department of Surgery; General Practice; Department of Paedriatics and Department of Psychiatry.
Specialisation in Paedriatics
From 1978 to 1982, Dr Adama Sallah worked with Halmstad Country Hospital, Halmstad, Sweden and served in various departments ranging from the Department of Paediatrics; Department of Infectious diseases; Department of Paediatric Psychiatry to the Department of Paediatrics.
Post-graduate diplomas in Paediatrics
In October 1980, Dr Adama Sallah did his diploma in social Paedtiatics at the Department of Child Health, Alvesborgs Northern Medical Region, Sweden. Also in the same year, he did a diploma in Paediatric Psychiatry at the Department of Paediatrics Psychiatry, The Regional Hospital, Linkoping, Sweden.
From 1981 to 1982, Dr Sallah obtained three diplomas in various related subjects namely Diploma in Paediatric Haematology and Oncology; Diploma in Paediatric Surgery; and Diploma in Perinatal Medicine.
Paediatric sub-speciality training
From 1978 to 1982, Dr Adama Sallah did some pediatric sub-speciality training in neonatalogy, allergology, gastroenterology, cardiology, endocrinology, neurology and rehabilitation, and preventative child health.
Also in 1982, Dr Sallah did training in specialist competence in paediatrics and in 2002, he was a fellow of the West African College of Physician (FWACP), Paediatrics.
Employment as Paediatrician and Physician
From 1980 to date, Dr Sallah served in various capacities both in and out of this country, working as a consultant Paediatrician, senior registrar, consultant paediatrician and general practitioner.
He served various companies as a Physician including British Caledonian Airlines in the UK, Gambia Ports Authority, SOS Children's Village and Training Centre, Spies Travel Agency in Denmark among others.
Membership of Boards, Committees, and Organisations
From 1970 to 1976,Dr Sallah served as a member of the Swedish-Gambia Friendship Society, an NGO in Stockholm, Sweden; member of the National Committee for the control of Tuberculosis and Leprosy; Member of the Gambia Medical and Dental Council; member National Technical Committee for Reproductive and Child Health among others.
Read Other Articles In Article (Archive)