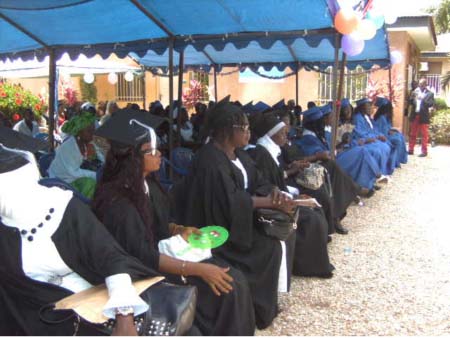 SOS Regional Mothers and Adult Training Centre in Bakoteh recently graduated 30 students of 2012/3 academic year at a ceremony held at the school grounds on the theme: "Standing for the vulnerable".
The graduands comprised 14 students from the social work programme and 16 students from catering and hotel management.
Many graduates from this programme are said to be now gainfully employed in public and private institutions, while some have joined the University of The Gambia for further studies, according to Dr Juliet Mendes, SOS regional programme development advisor and chairperson of SOS social work academic advisory board.
The subject of vulnerability should be a concern to all, she said, adding that at one point or the other in life one could become vulnerable.
Many people are partially vulnerable because of their gender, social status, ethnic origin or disability, she pointed out.
Nyalin Abubacarr Sambou extended appreciation to the SOS Children Village International's efforts for providing the training opportunity for the young people in complementing government's efforts.
This, he noted, was evident of the public-private sector partnership the government was earnestly promoting in all sectors, which also fulfils government millennium goals for global partnership for development aimed at reducing poverty and hunger in society.
He said their expectations from the graduating students were to uphold high ethical standard required of their profession and to be committed to contributing positively to national development and humanity in general.
SOS-RMATC's Director Ellen Maraizu, in her remarks, said SOS stands for the vulnerable by working with the most critical group in society of children and young people.
"We live in a world where many children have been deprived of their rights to a caring family environment," she pointed out, adding that millions of children have lost their parents and the care of their biological family and many more are at risk of falling into this situation.
She said too often these children have nowhere to find the protection, care and support required for their healthy development from which their organization was born, from recognition of the plight of these children and from a desire to respond to their situation in a relevant and meaningful way.
Read Other Articles In Article (Archive)