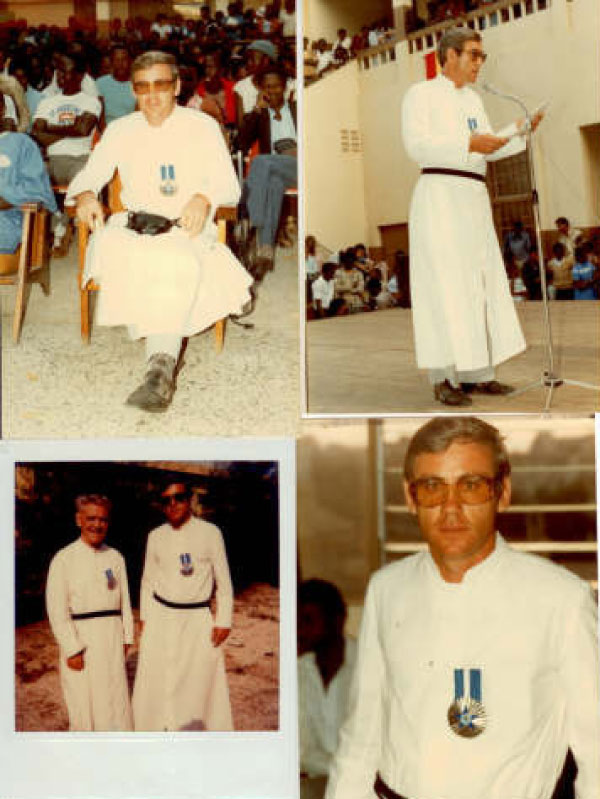 It was heartbreaking to see the piece in The Point of Monday February 25th and learn that "My Mentor" Fr Joseph Anthony Gough Cssp, is finally leaving Banjul to go back to Ireland on his Doctor's advice; evidently on his own terms unlike when he unceremoniously left on July 14, 1983.
That part of history needs not be revisited but one thing is certain, that decision had its ramifications on a lot of young lives at the time, but most importantly, St Augustine's High School was not ready for it and since then, it has continued to show.
While many at the time said Government did nothing about Gough's departure, I utterly dismissed those claims and wish to put on the record today; that the Government of Alhagie Sir Dawda Kairaba Jawara did all in its power for the decision to be rescinded.
Not only that, in 1986, Fr Gough was approached to come over to take over Armitage High School as its Principal, but because of the fact that, "there were changes in his family status," he was unable to return to the country he so loved.
Of course if you know Joe Gough like I do, he is the consummate diplomat and I would leave that part of the story at that.
The Point has outlined his contribution to Gambian sport and education like no other and I would want to go another notch to touch on what Fr Gough thinks is his biggest achievement.
It had nothing to do with McCarthy's Square or Box Bar Stadium. Indeed it had to do with his Ministry, his mission to The Gambia, the one that Michael J Maloney, Bishop at the time, appointed him to do at St Michael's Seminary in Fajara and that was to work with the late Bishop of St Louis, Bishop Pierre Sagnia to prepare the first batch of Gambian Priests, a batch he always joyfully refers to as his "first five" in Frs Anthony Gabisi, Peter Gomez, Edward Gomez, David Jumo Jarju and Anthony Raphael Sonko.
This is what the Man regards as his biggest achievement in The Gambia. Unlike some sentiments about him at the time, Fr Gough was as heavily invested in the vocation like he was in sports development and education.
The label that he was more interested in sport than his Ministry is utterly misleading and I like many don't think he is deserving of this label because he does have something to show for his religious work in The Gambia.
Did he have shortcomings, indeed like every human being; but Joseph Anthony Gough is the best thing that ever happened to many lives in The Gambia.
At St. Augustine's High School, which was his first love, Fr Gough was committed to see the school progresses, with one belief: "second best was never an option" and I am sure our next door neighbours on the other side can bear me witness .
There were many decisions that had absolutely no support from the Board of Governors that he thought was in the best interest of the school, prominent among which was introducing a sixth form to the school, this decision was not popular within the majority of the board and it took a long time for him to get the support and there are results to show today. Even when he wanted to take the school to three streams, it was not popular.
He once told me that many capable students were being turned away because of the capacity of the school at the time, (400 students) and he was going to make sure this was addressed and he has always told me he owed a debt of gratitude to the then Director of Education, the late Anthony LR Blain, whom he calls the rock behind his success at St Augustine's High School.
No wonder the O Level results he left behind has not been bettered since and again that tells of what a great motivator and administrator he was.
As he leaves for home, our country is eternally grateful. The many students and families he took care of will be grateful forever.
The handicapped kids he took care of at Brikama or Tabokoto are grateful.
He is a rare gem and has left stellar footprints on Gambian soil. The over 1000 students he knew by name, the ones he told: "with your books and bags to my office; the ones he called "Ndongos", and the ones he always advised to relish what is right" are yearning for one more time in a room with their hero.
They all do believe that Joe did play an important role in their lives and YES, his mantra that "all work and no play makes Jack a dull boy," still holds.
For all the memories, the trips to Juffureh, College St Michel in Dakar, Lycee Gaston Berger in Kaolack and your strong dedication to improving the skill level of every student we say Thank you.
For the religious tolerance you preached and practised, we say JERREJEF, your best Gambian word.
Hopefully when it is written, History will say, Fr Joseph A. Gough did all he could for The Gambia with what he had.
Till we meet again in God's time, enjoy your retirement. You will forever be in the minds and hearts of many Gambians, not just for what you did, but also for the great person you are.
From the many Latin phrases you taught me, let me take leave of you with this one: "boni pastoris est tondere pecus non deglubere " which translates to "it is a good shepherd's [job] to shear his flock, not to flay them" and you did.
Read Other Articles In Article (Archive)