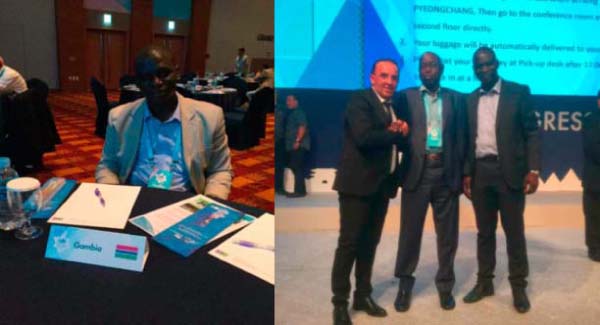 The President of the Sports Journalists' Association of The Gambia (SJAG), Musa Sise, is currently in the South Korean city of Seoul for the 80th Congress of the Association of International Press Sport (AIPS).

During this congress, delegates representing national sports associations will be electing a new president and executive that will steer the affairs of the AIPS for the next four years.
More than 200 sports journalists, delegates and guests from over 100 countries are in attendance at the annual global summit of sports journalism.
In his opening speech, AIPS president Gianni Merlo stressed that the congress comes at a time when journalism is going through a difficult time with online journalism affecting newspaper, radio and TV, amid corruption and doping scandals affecting sport itself.
"We see self-interest in news coverage; some clubs refuse accreditations of journalists just because they criticize them. With doping issues, credibility is at stake. Corruption has existed in the world of sports since long time and doping became a cancer beginning 1980s. We hope that in 2017 we will fight more to defend our rights and freedom of expression," Merlo said.
The AIPS president showed no sympathy towards those who could be caught doing wrong. "The good news is that we are optimistic because we believe in the professionalism of our colleagues around the world. There will be no space among us for corruption, and we find someone corrupted he will be kicked out and excluded, there will be no mercy."
In recent months, South Korea has seen the arrest of its ousted former president, received threats from a nuclear-armed neighbour amid fears of "imminent war" with North Korea.
"Some of you were worried about coming here due to the global political situation, but here we are holding our congress in great conditions," Merlo concluded.
Read Other Articles In Article (Archive)