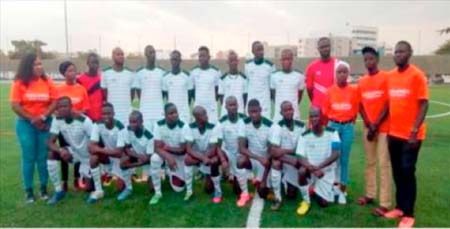 Sports Journalists Association of the Gambia (SJAG) will today (Thursday) leave Banjul for Dakar ahead of an international friendly football match against their counterparts, The Senegalese Sports Journalists Association (ANPS).

This will be the fifth time both associations playing each other in an international friendly match as part of the way of strengthening the already existing relationship between both associations.
Speaking in an interview with Pointsports, the SJAG's assistant coach, Pa Barrow said they have prepared very well for the away encounter as they have been trained collectively for over a month.
"We know what is at stake as the Senegalese Journalists will not take the encounter lightly after we defeated them three consecutive times in our last four matches," he said.
According to him, they will be travelling with a 19-man squad for the Saturday encounter, adding that SJAG has nothing to lose after beaten ANPS three times - twice in Senegal.
Coach Barrow also noted that the encounter between SJAG and ANPS is geared towards developing and strengthen the already exist relationship between the two associations.
The encounters are also part of the celebrations of both SJAG and ANPS annual Sports Award Night and Gala, in which they celebrate and recognize their sports personalities and athletes who has done well in developing sports in their countries.
Meanwhile, the two sides (SJAG and ANPS) have played four times in which the Senegalese Sports Journalists first defeated the Gambia Sports Journalists 1-0 at home played at the FIFA Goal Project in Yundum, while the SJAG defeated the Senegalese three times, one at home and two away in Dakar.
This international matches between SJAG and ANPS is aimed at strengthening the already relationship. The matches are played in observance of their annual Sports Award Night and Gala, where they will recognize sports personalities and athletes who has done well in developing sports in their country
Read Other Articles In Article (Archive)