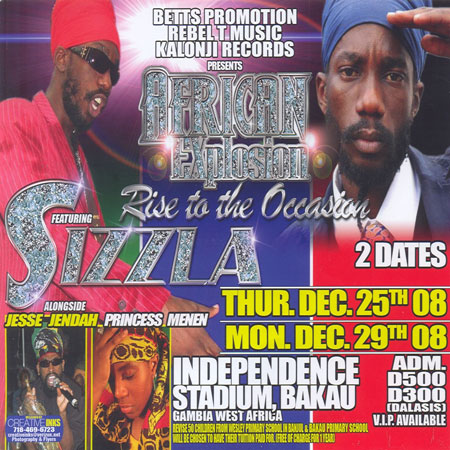 Sizzla, one of the famous reggae artists in Jamaica, is expected to land into The Gambia in December 2008. The renowned Jamaican artist will be accompanied by Princess Menen and Jesse Jendah respectively.
Briefing Entertainment recently, the award winning DJ Lamin Cham said upon the arrival of Sizzla in the country, reggae lovers will be treated to shows on the 25th and 29th at the Independence Stadium, Bakau. The shows will be presented by Betts promotion Rebel T music Kalonji Records and featuring the Don of all Dons.
Performing for the first time in Africa, Sizzla is presently in the United States of America on a contract basis.
The Point contacted the Gambian agent, Mr Lamin Cham of Champion sound production, and, according to him, it's going to be the biggest show in the history of The Gambia. Sizzla is the most needed singer of Reggae music and it's his first time in Africa. His tour to start in the Republic of The Gambia. It's gonna be a storm in The Gambia. Let's get ready to mark the history together, one love one Gambia. Respect to all music lovers.
Read Other Articles In Article (Archive)