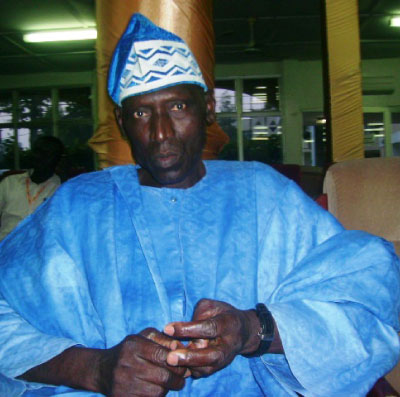 Hon. Sidia S. Jatta, the National Assembly Member for Wuli West constituency has disclosed plans to launch a disaster relief fund for victims of disasters in his constituency.
Sidia was speaking at a press conference held yesterday at the People's Center for Research and Social Sciences in Churchills Town, to update journalists about what had happened in Sutukonding village in the Wuli West district of the Upper River Region.
This follows a heavy downpour on 31st of July this year, and the press conference was convened to announce the launch of a disaster relief fund.
According to the Wuli West NAM, this does not mean that he is unmindful of the National Disaster Management Agency's initiative, but what he intends to do is to supplement the national effort in that direction.
"I feel concerned, because I am the NAM of the area and am not happy with the trend of events since the disaster took place on 31st of July. So far, I have not heard any announcement to the effect that something is being done or some people have been there to assess the scale of damage done there," he said.
He said that in order to supplement the national effort on the provision of disaster relief services, he as the NAM of the area can come in and make appeals, both nationally and internationally, for help to those who have been affected by the disaster.
The Wuli West NAM announced that there was serious damage to infrastructure by the heavy downpour in the area, which destroyed buildings, fences, foodstuffs, and caused the loss of household items, such as clothing.
In one particular case, he said, the seedlings of a huge corn field were swept away by the flood waters. He added that as many as 27 compounds have been affected by the natural disaster. Livestock was also affected, including sheep and goats, Hon. Jatta said, describing the incident as a terrible loss.
As he put it, a good horse costs nothing less than D20, 000. He cited an incident which had recently happened in Sutukoba village, where six to eight horses were killed in similar circumstances.
"And am yet to hear what the national initiative has done to help those who have been affected by that terrible damage, in either Sutukoba or in Sutukonding," he complained.
While expressing dismay in the way and manner in which the National Disaster Management Agency operates, Hon. Jatta said, there has been an absolute need for preparedness.
"You know we have a national disaster relief programme in this country, but I don?t know how they are operating because a lot of disasters take place at least in our part of the country, and I don't see much of what they do," he argued.
He complained that there were so many fire outbreaks in Wuli Barrow-Kunda, in particular, and some other villages in the same constituency, "but up to this day, nothing has been done to support the victims."
This, he said, is one of the reasons why he is planning to get in touch with the fire service department, to ask them to help prepare our communities against such eventualities.
He called on the fire service personnel to go out to areas that are prone to fire outbreaks during the dry season so as to prepare communities against such eventualities, before and after the event.
"Even if there is a fire station in Basse, if there is a fire outbreak somewhere in Sandu or Wuli, at a particular time at night, the fire service in Basse cannot be of any help, because there is no ferry service at that time of the night," he pointed out.
This, he added, is why the North Bank of the Upper River Region should have a fire service station, at least to serve the districts of Sandu and Wuli, "where fire disasters are very common during the dry season."
Read Other Articles In Article (Archive)