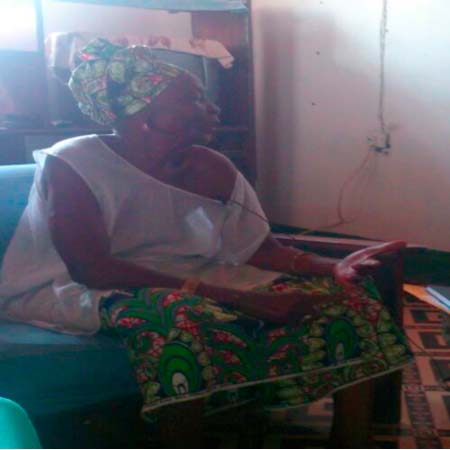 Ateam from the United Nation's Population Fund (UNFPA) and the Network of Journalist on Reproductive Health, Population and Development (NJORPAD) on Tuesday continued their media field visits to Central River Region, and made a stop by CRR's Ex "Murou Mansoo" (Queen Cutter) Aja Babung Sidibeh at her residence in Jangjanbureh.
The aim of the visit, according to UNFPA officials, is to familiarise the media with UNFPA project intervention sites, to discuss with project staff and beneficiaries, and hold key informant interviews with prominent local personalities.
The objective of the visit is to give media personnel first-hand information, to generate human interest stories related to the work of the UNFPA in The Gambia and with UNFPA expectations, and also to create a better working relationship between UNFPA and NJORPAD.
The media field visit is based on the theme: "Enhancing partnership with media to promote visibility - a pathway for showcasing grassroots stories and amplifying the voice of the marginalised".
UNFPA is the main donor agency behind the 'End FGM Campaign' in The Gambia, and who mainly fund FGM activities of GAMCOTRAP whom Aja Babung Sidibeh worked with in dropping of the Knife Campaign, as well as ending FGM in CRR.
The team thought it wise to visit her and have a chat with her on her stand towards the dropping of the knife and ending FGM in The Gambia.
Upon receiving the team in her compound, Aja Babung Sidibeh said Jangjangbureh is home to traditions and culture, and Sidibeh-Kunda is the custodian of anything relating to culture.
She said circumcision, be it male or female is done in every five years and conducted by Sidibeh-Kunda only, which inherited it from their forefathers.
Even when anyone wants to bring out a masquerade, you have to buy colanuts and take it to Sidibeh-Kunda for approval.
It was their forefathers that were "Ngansibaas" custodians of the initiates.
"Ngansinbaa" and "Ngaamaro" are not the same, she said, adding that it is the "Ngansinbaa" that brings together children for circumcision, and make them stay under her custody, and "Ngaamaro" are the ones they send messages to come and cut the children.
"Ngaamaro" is the cutter or circumciser, while the "Ngansinbaa" is the custodian of the initiates.
She inherited it from her grandmother. They used to call a meeting and informed the men that it was five years and that they have to embark on FGM and male circumcision.
Then the men would prepare their own and take the date they would embark on it, and the women too would do the same; and when they agreed then they would send for the cutter "Ngaamaro" to come and embark on it.
Both men and women have their own place, where they do it, and they do not mix.
Where all of them would meet is deemed the real culture, and is called "Baara wuroo" in Mandinka.
"When I inherited it, I was doing it and I heard that the campaign to end the practice was going on. The campaigners tried, but they cannot enter my areas "Bolongokono". I was there and after five years, I did FGM and I circumcise 76 girls and more than 100 boys."
At one circumcision exercise, two girls become sick and some were speculating that it was the witches that were following the children.
However, she told them that whatever she never encountered in her circumcision, whenever she saw it she would take them to the hospital.
She took the children to the hospital and, when they checked them, it was found out that one of them had meningitis and the other one's body does not like the knife.
They were given medicine and got better, and then they did the passing out ceremony.
She then embarked on investigating the issue to look closely at the things involved in it.
They did a lot of local treatments, because that was what they met their parents doing.
"I later found out that we treat some women whose husbands divorce them due to effects of FGM, because some of them when cut developed scars on their body.
"I then summoned my people, and told them that what I found out in this circumcision. I announced that I will drop the knife, because what I see, if my grandmothers saw it, then they would also have dropped the knife, because it is giving problems to our women."
When GAMCOTRAP came and had a meeting with her, they selected her as their mother, and she accepted.
She then promised them that CRR would drop the knife, and went with them to every region in The Gambia that had a "Ngaamaro" cutter.
The oldest "Ngaamaro" was called Jongtang, and if she did not call her and give her the order to cut, she would not cut; because they are the ones that order them to do it.
"I then called the oldest "Ngaamaro", Jongtang, and I told her that from today I will not called you and order you to cut, because I have dropped the knife and I want all of you to do the same."
She was also selected to attend an FGM meeting in Italy, and among all the participants that attended, it was her word that stood out.
"I told them that anything that they are giving to the campaigners they have to double it, because if you meet someone doing something and you asked the person to leave it, you have to give him or her something better."
It may be true that even after the ban and legislation on FGM people still cut girls indoors, but in CRR there is no such thing happening, because CRR have dropped the knife, she declared.
They do not even talk about it, because she was the one who used to order them to do it; and if anyone does it without her consent, she would know.
They did not embark on translating the legislation into local languages for the people to understand, but she made it clear that CRR had dropped the knife, and so they have to stick to that.
The culture still remains without the cutting, so they would take girls to the bush and teach them their culture, taboos and discipline which are done in every five years; without cutting them.
UNFPA should help fund campaigners to translate the legislation to the people and sensitise them on the law, so that they could be more aware of it, she added.
Read Other Articles In Article (Archive)