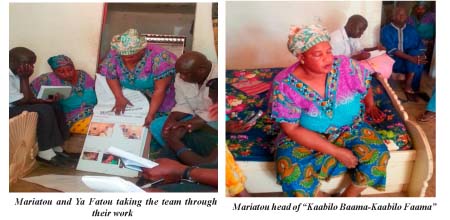 The United Nations Population Fund (UNFPA) are the main funders of the "Kaabilo Baama", "Kaabilo Faama" initiative in Sarre Samba village geared towards tackling maternal deaths and access to SRH services in the remotest parts of The Gambia.
This was made known during the media field visit organized by the UNFPA country office in partnership with the Network of Journalists on Reproductive Health, Population and Development, of UNFPA intervention areas across the country.
The "Kaabilo Baama", "Kaabilo Faama" initiative was visited to see the work they are doing in their community and the impact it has on the lives of the people living in Sarre Samba and satellite villages.
The media field visit was based on the theme: "Enhancing partnership with media to promote visibility - a pathway for showcasing grassroots stories and amplifying the voice of the marginalised".
Speaking to the team on arrival at the village, Mariatou Bah, head of the "Kaabilo Baama-Kaabilo faama" initiative, said they started it three years ago.
Before the initiative came into being, they had challenges and difficulties regarding their health, because they are in a remote area.
"Imagine you get pregnant and you do not have help; that becomes our biggest challenge, but thank God, with the "Kaabilo Baama-Kaabilo Faama" initiative we have gone through a series of training activities, which has enabled us to come back and educate our men and women."
When UNFPA came, there were seven villages, including Madina Sancha, Sarre Samba, Njofen, Torangkabanta, Njenyerr and Kaiaf.
They were asked about their challenges, and they said they have challenges when it comes to health issues, income generation and roads.
They only have work to do during the rainy season, and after the rains they have nothing to work on, because they could not have gardens due to shortage of water.
Whenever they have a pregnant woman who is in labour, they would put her on a donkey cart and on the poor roads, and sometimes the woman would deliver before reaching the hospital, she said.
"When a woman is in labour she does not go with her husband, but is accompanied by an old woman to the hospital, which was a big problem for us."
But the "Kaabilo Baama" and "Kaabilo Faama" initiative has given them training on basic health issues.
It was a success and the men supported them, she said. This is why they call it "Kaabilo Baama-Kaabilo Faama", whereby women would educate women and men would educate men on health issues.
The UNFPA came in and supported them with funding, which they used to make soap, and are selling it and using part of the money on transport in the event a pregnant woman is in labour and the husband is financially handicapped.
Then the "Kaabilo Baama-Kaabilo Faama" initiative would come in and loan their husbands money to take care of the bills with no interest payment attached; so that after the rainy season he could pay back the money.
They then shifted to making tie and dye materials, which they sell and invest some of the money on their health centre in Kaiaf village.
They buy gas for the health centre in Kaiaf to boil water for the women. There could also be water shortage at their health centre, and when someone is in labour she would go with water to the health centre, she explained.
The "Kaabilo Baama", "Kaabilo Faama" would step in and dig a borehole at the health centre fitted with a little machine.
"The 'Kaabilo Baama-Kaabilo Faama' initiative has helped us a lot, because now when a pregnant woman is in labour she is accompanied to the hospital by her husband," she said.
The husband would not take away the pain from the woman with his presence, and it also gives strength to the woman just by seeing her husband beside her, she said.
"We also contact taxi drivers, and anytime a woman is in labour we will just call a particular driver and he would rush and take the woman to the hospital."
If the woman in labour needs blood and the husband could not donate her blood, they have the blood group of everyone in the village and they would call those belonging to her blood group to come and donate blood.
The loan given is D1,000, and it is payable before one year.
"We are also very observant at the village level; so when we see a pregnant woman, we will have a discussion with her and make sure she goes for antenatal care to avail her safe delivery."
Every man and woman in the village is well-educated about their health, she said, adding that if they see any sign of ill-health they would consult each other and go to the hospital.
She said one Ya Fatou Bah is the one responsible for the distribution of family planning commodities, as well as raising awareness on contraceptives in the village.
Their men are well-informed when it comes to family planning commodities and they accept them.
She added that family planning has been in their community since; however, what was being practised then was the traditional method.
She added that she was trained once on FP methods with one man in the village, and when they returned from the training they enlightened the people on modern contraceptive methods.
She told the villagers that FP is not out to destroy marriages, but is about planning one's family in a way that would not bring problems to the woman, the husband and children.
"I explained to them the different commodities, and how it works. I distributed pills and the men distributed condoms. I do also talk to the youth on SRH rights."
She said the commodities are accessible to all at any time, whenever they needed them; and if she ran out of supplies she would use her contact to call one Karamo at the health centre to bring them.
She appealed to the UNFPA to do more for them in terms of capacity building. "If one is disseminating information, you need to be capacitated often."
They have their own data entry books and video tapes containing information on health issues in English, Fula, Wollof and Mandinka, she said.
However, they do not have a hall where they could play the videos for the women to see and learn from.
Alieu Jammeh, RHCS coordinator at the UNFPA, said they have heard their demands and would go back to their offices to see how best they could strengthen the partnership between them.
Jammeh announced that they are thinking of extending the initiative to other parts of the country.
Read Other Articles In Article (Archive)