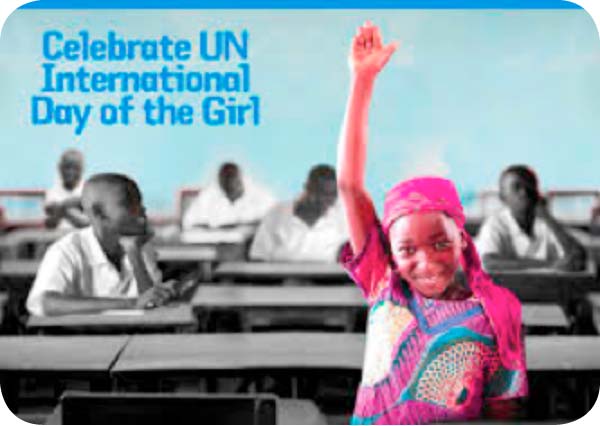 On 19 December 2011, the United Nations General Assembly adopted Resolution 60/170 to declare 11 October as the International Day of the Girl Child, to recognize girl's rights and the unique challenges girls face around the world.
The theme for the year 2015 is: "The Power of the Adolescent Girl: Vision for 2030".
As the world celebrates the day of the girl child, also known as the International Day of the Girl Child, my mind goes to the girl child holding a cup in her hand wondering about on the streets and begging for money.
Looking at the theme of this year's day of the girl child celebration: "The Power of the Adolescent Girl: Vision for 2030", you realise that as they mature into women, if effectively supported during the adolescent years, they can change the world.
Then I came face-to-face with her while boarding a vehicle. She was 7 to 8 years old, when she started begging on the streets and now she is in her teens, an adolescent girl.
Those that use the Westfield road will tell you that there was never a time that they were not interrupted by a girl child dress in rags, putting on a pair of slippers, holding a cup in her hand begging them for money while other children are busy going to school.
Surely our world leaders who celebrate the day of the girl child in their various ways have ignored the fact that a girl child begging on the streets cannot change the world by begging.
This girl child will approach you and say: "Asalamalaikum siihh yanghe nyan sarahh" meaning the twins are begging for charity.
She said this with a clear voice; the sound of her voice is so clear that she can be heard by anyone who cares to listen. She said that with a smile, and to her this is a good activity one she will not be in a haste to leave.
To her, she is doing a noble job, as you can hear her shouting out loud "asalamalaikum siihh yanghe nyan sarahh".
The way she walks while begging tells you that she is enjoying it, and I don't blame her because this is the only art she was trained how to do, and she is giving it her best.
After gathering a few coins, she will then settle down for the cheapest bread to keep her energy going; after that she continues her begging until sunset.
There was a day I entered a vehicle going to Bakau and there she was with her cup. She came and stood beside a man sitting in the front seat, and said to the man: "Asalamalaikum siihh yanghe nyan sarahh".
The man in reply said to her: "where are the twins" and she smiled at the man and said: "The twins are with my mother". The man then said, "Go to school child or go and learn skills and stop roaming the streets". She just smiled and went away.
I then said, should we blame her for roaming the streets with her cup in her hand and begging? Who is responsible to make sure that girl child is off the streets to school? What compels that girl child to go on begging for money?
We are celebrating the day of the girl child, and yet some of our girls are roaming about on the streets begging or selling, when they should be in school.
What does the future holds for them. What kind of adults will they grow into? Is the world fair to these girls?
She is not the only girl roaming the streets. Take a walk to the Pipeline Mosque, where you will come across girl children with their grandmothers trying to make ends meet through begging, and most of the time they will run up to you asking you for money to buy breakfast.
That is an open environment where they sit from sunrise to sunset, and most of them hardly even go home with money. In these environments, they are seeking for survival and are prone to infection, as well as abuse.
Every girl child's dream is to live in a world that is convenient enough for her to explore her potential through education, and live a better and promising life. What benefits will a girl child receive from the begging industry other than being abuse?
The life of a girl child who spends the whole of her youthful life begging is not a promising one. She cannot be an asset to society or the nation, even if she wants to. She will not know what it takes to be heard, since she was not able to sit in the four walls of a classroom.
This is a girl who will not know where to begin or go to if her rights are being violated, since she may not even know what constitutes violence against women.
This is a girl who will be abused on daily basis, because she is meeting different people who will promise her money, but instead abuse her.
If this girl is educated, she can contribute as an asset in the society and the nation. A child born into a family does not become a member of that family alone.
She is the child of a nation and, therefore, it is the responsibility of all to make sure those children, especially the girl children who risks being raped, are taken off the streets and sent to school, where they belong.
What is the essence of celebrating the day of the girl child if her right to education, health, shelter, name, identity, and survival is not respected?
As a responsible father or mother who is being approach by any of these girl children begging on the streets, it is your duty to make sure that this child is off the streets.
Instead of humiliating and condemning them, we need to talk to them; we need to listen to them because they have stories to tell.
Let's build a world where every child will experience the joy of being a student; where every girl child will live a decent and dignified life; where every girl child will live in a violence-free environment; where every girl child will be everybody's child; where every girl child will be given a chance to explore her potentials.
In honour of celebrating this day, She-she-she is in solidarity with every girl child across the world who is a survivor of neglect and abuse, and we call on all governments in the world to put perpetrators of rape behind bars, since they pose a danger to society. 
Read Other Articles In Article (Archive)