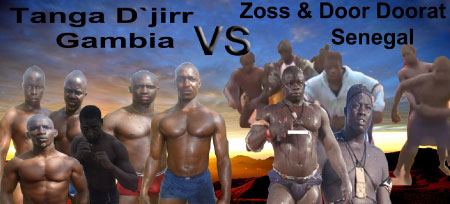 Senegalese wrestling superstar Zoss and his Ecurie, "DOOR DORAT" will face Gambian wrestlers on March 4, 2012 at the Independence Stadium in Bakau,
The Gambian team comprising Tas Sa Yaram, Gine Morre, Tanga girr, Leket, Kunta Kinteh and Jambarr of The Gambia Armed Forces, will wrestle in mixed boxing, also known as "BUREH DORR".
The team is said to be currently in a training camp where they are trained by the best boxing and wrestling coaches in the country.
Mboss and Gargambose, who are also from Ecurie "DOOR DORAT", will make The Gambia show.
The event, which has already created noise in the Senegalese media, is powered by Block Entertainment and ABLO Promotions, in collaboration with New Century LTD.
Abdoulie Bojang, a promoter for the event, said: "The Gambian team is in training to present a challenge to the Senegalese team. Presenting this challenge is a victory for the sport of wrestling in The Gambia on its own."
According to a member of the Gambian team, they have vowed to fight and defeat any Senegalese wrestler because, "we are hungry and have been waiting for this opportunity for a long time. It is time for us to show the public what we can do. All we are asking for is for our fellow Gambians to join us and support us on 4 March 2012."
Critics say The Gambian team will face the fight of their life come March 4.
Read Other Articles In Article (Archive)