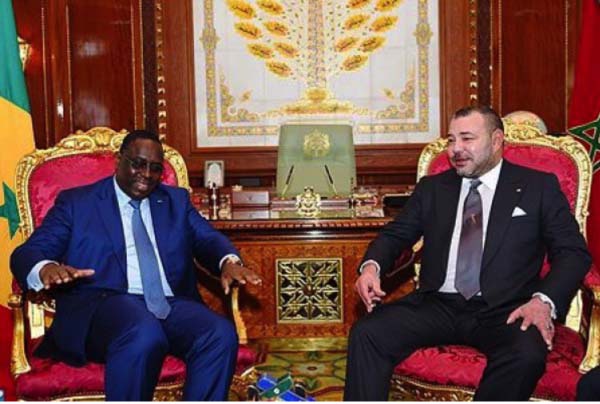 During the second day of his three-day working visit to Senegal, the King of Morocco, Mohammed VI, on Thursday signed 13 bilateral agreements in various fields of economic cooperation with his Senegalese host, President Macky Sall.
The agreements, signed at the banquet hall of the Presidential Palace in Dakar during a ceremony co-chaired by the two heads of state, are aimed at strengthening the economic partnership already existing between the two states, and they cover such diverse areas as customs and artisanal fisheries
The agreements also include cooperation in terms of territorial administration, industrial cooperation, dairy production, animal husbandry and public health, as well as several other diverse areas.
There is also an agreement on tourism to be jointly executed by the Mohammed VI Foundation for Sustainable Development and the government of Senegal, which includes a framework agreement on cooperation in vocational training.
This is the first leg of a four-nation tour of Africa, which will also take him to Cote d'Ivoire, Guinea Bissau and Gabon.
Meanwhile, speaking on the visit, the Senegalese Minister of Foreign Affairs and Senegalese Abroad, Mankeur Ndiaye, said it is a testimony to the cordial relationship that exists between the two countries.
He urged Moroccan business men to take advantage of the warm relationship and invest in Senegal, citing in particular the interest shown by Moroccan entrepreneurs in such sectors like banking, finance, real estate, health and other fields.
Recalling President Sall's recent visit to Morocco and his participation in Morocco's 8th National Agricultural Conference, he said it was not coincidental as President Sall has intentions to make agricultural development the cornerstone of his administration. He referred in particular to the Senegal Emergence Plan (PSE) in which he said agriculture occupies an important position.
In conclusion, Mr Ndiaye reiterated Senegal's readiness to work for the return of the Kingdom within the African Union, underlining that Morocco has been at the forefront of every struggle for the achievement of African unity.
The Moroccan King on Friday made a donation of 10 tonnes of medical drugs to Senegal.
In receiving the donation, the Minister of Health, Awa Marie Coll Seck, said the drugs would go a long way in helping the government realize its Universal Medical Coverage, recently introduced to help the poor people have access to subsidized medication.
After his visit to Senegal, the Moroccan King will visit Guinea Bissau, Ivory Coast and Gabon.
Read Other Articles In Article (Archive)