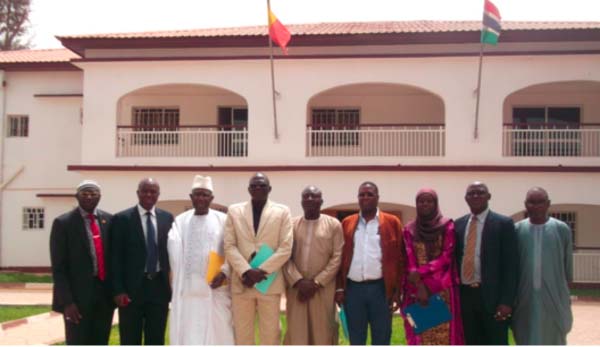 The Senegal-Gambia relationship is further assured to be retained realizing the shared values and cultures among others by the two sister nations.
These assurances were put on the table during a discussion made by both nations' parliament members, and other government officials, as well as members of the Senegalese-Gambian Association for Integration and Socio-Economic Development (SGAISD).
Members of the Senegalese parliament with other government officials were invited by their Gambian counterparts to grace the state opening of the National Assembly marking the commemoration of the Gambia's 50th independence anniversary.
The Senegalese officials' visit wrapped up with a reception held at the Clay Oven Restaurant in Bakau and a press briefing on Saturday.
It also witnessed a presentation of gifts by Gambia parliamentarians to their Senegalese counterparts.
The speaker of the National Assembly, Abdoulie Bojang, described the significance of the relationship of the two sister nations.
He said they invited their Senegalese counterparts to witness the State Opening of the National Assembly, and this shows that they are all one family.
Majority Leader and member for Serrekunda East, FabakatyTombong Jatta, thanked the Senegalese delegates for responding to their invitation.
He said as members voted into parliament of the two nations, it was their duty through their parliament diplomacy to work effectively for the benefit of their people and nations.
He described the Gambia and Senegal as having a bond which is unbreakable, and commended the Senegalo-Gambian permanent secretariat for their endeavours.
Senegalese majority leader and president of the parliamentary group of Benno Bokk Yaakaar, Hon. Mustapha Diakhateh, said their aim was to ensure they reach a higher level, whereby citizens of both nations continue to be one, citing the nature of the two nations as an example for the whole continent.
He said as they return to Dakar, Senegal, they would create a group in their assembly, which would focus on the development of both nations, and appealed to the Gambia parliament to do the same.
"I will invite my Gambian assembly members to Senegal for the two assemblies to further discuss the way forward to smoothen the relationship of the two nations," he promised.
Hon. Diakhateh congratulated President Yahya Jammeh for the nation's development and on the 50th anniversary.
He described the two heads of state as brothers who love their countries and the development of their nations.
Other speakers included the historian Professor Iba Der Thiam of Senegal. 
Read Other Articles In Article (Archive)