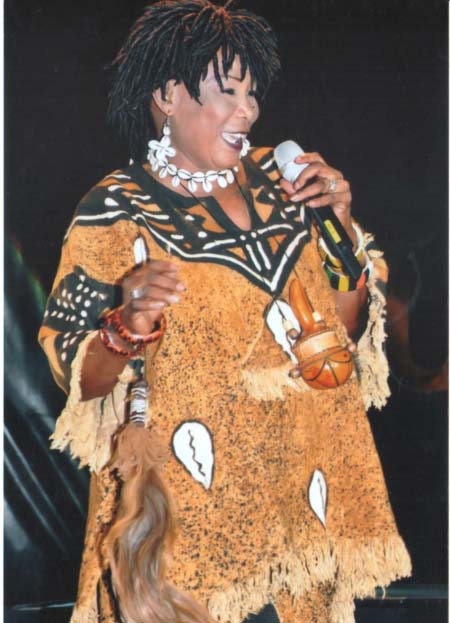 She might not be known very well in the Gambian musical scene, after the death of his husband, Osu Lion Njie, who was a household name in the Gambian musical arena in the early 90s.
However, Ndey Nyang Njie is slowly but surely regaining the past music glories of her late husband.
Based in Senegal for the past eight years, she is still one of the finest Senegambia artistes of our generation, having released various albums since the demise of her late Husband.
Now she is planning to launch her eight-track album dedicated to the President of The Gambia, Yahya Jammeh, describing the president as his number one fan.
Speaking in an exclusive interview with Point Entertainment and Lifestyle via email, Ndey Nyang narrated her life, music career, plans to move back to The Gambia, as well as developments registered by President Jammeh.
Known by her musical name, 'La Diva' said: My mum is Gambian and dad is Senegalese. I was an artiste well before my marriage with Osu Lion Njie and, after his death, I felt lonely because he was doing everything for me during my musical career with him.
After his death, I decided to relocate to Senegal promising my fans that I need to go and work in Senegal, and return when I have completed my mission.
Before the death of my husband, one of my friends and supporters, President Yahya Jammeh, supported us in the release of our eight-track album.
Sadly, before the release of the album Osu went on a promotional tour in Europe, where he passed away in Norway.
Ndey who is willing to perform at the Gambia's 50 golden Jubilee ceremony said: "After his death, I was absorbed in total sorrow; anywhere I go the Gambian people will start saying this is the wife of Osu Lion Njie. I was a bit frustrated after the death of my husband. Then I took a decision to travel to Mali, Bamako.
Later, I came back to be based in Dakar, Senegal, where I am currently residing. I am a strong woman, and if I am going to die today I am dying as a strong woman.
This is because I know where I came from and where I am heading to. My aim is to return to The Gambia one fine day to make my fans happy, especially President Jammeh.
In her words: "I am waiting for the day I will meet President Jammeh and tell him that this was what I was doing in Senegal, and that finally I am here in The Gambia because all the good things that I should have are all in The Gambia. I want is to further the legacy of my late husband Osu Lion Njie, who was laid to rest in peace in The Gambia.
To be frank, it was not easy at the beginning in Senegal. But I am a strong woman. Thank God, I met one man in Senegal who is my number one fan. Majaman Mbaye asked a lot things about me from different people, and eventually decided to support my music career in Senegal. He gave me 500,000 CFA to re-establish my band and I was able to released one Mandika track produced by Mobil Studio.
Majaman was excited about the released new track, and later sponsored me with one million CFA. I was so happy about the support, following the struggle I went through after the death of my husband.
"I am proud to be a Gambian, and I have a big surprise for President Jammeh and Insallah I will go to The Gambia before Christmas soon to present my eight tracks album to President Yahya Jammeh."
Ask why she dedicated her album to President, the rising Senegambia music star responded: "Yahya Jammeh is my number one fan, because he wants to see Gambian music to the next level. He personally sponsored my husband in releasing his eight track album; that is why I say he is my number one fan.
After the death of my husband, I should have stayed in Gambia. However, the situation and conditions forced me to come to Senegal. But as I said, I will soon go back to The Gambia to re-glorify the legacy of Osu Lion Njie. I should not have been here without President Jammeh knowing about it."
Nyang Njie has performed alongside several prominent Senegalese musicians during the 'Corridore Musical festival', which is one of the biggest gatherings of both Senegalese and international artistes.
She is expected to launch the album in The Gambia, but she is looking forward to sponsorship.
"God has given me a talent that I can sing in any language I wish to sing. My music is special in sense that it touches on the lives of people. I have a long way to go in the music scene."
She called on Gambians to give a hand to Gambian artistes, both at home and overseas, to help them rise.
Read Other Articles In Article (Archive)