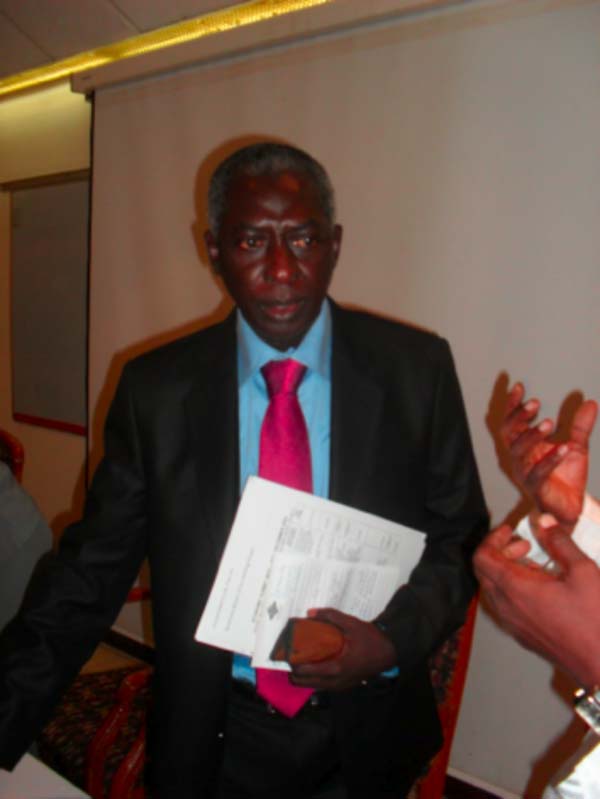 Investment opportunity ina dedicated regional maritime shipping operation to cover West and Central Africa has been brought to the doorstep of Gambians through a project called Sealink, which is being promoted by Sealink Promotional Co. Ltd, a West African regional initiative.
This laudable initiative, which is at its finishing stages for implementation in 2014, was effectively explained yesterday to members of the private sector and the general public by senior officials and consultants of the Federation of West Africa Chambers of Commerce and Industry (FEWACCI) at the Kerr Jula Secretariat, the head office of the Gambia Chamber of Commerce and Industry (GCCI) in Bijilo.
"Our purpose for this gathering is to encourage economic growth, capital growth, and set up advocacy for the promotion of Sealink Company to transport goods in order to grow trade activities between our ECOWAS states and even up to Central Africa," said FEWACCI President Bai Matarr Drammeh, who led the team to The Gambia on a mission called Sealink Roadshow programme to share the timely information with the people of The Gambia, especially investors.
Mr Drammeh, who was until recently the president of the GCCI, explained further: "The place of the private sector is pivotal, and critical for the success of an instrument called democracy, for the creation of jobs, for the generation of taxes, and for influence, to pass appropriate laws and encourage a positive reception for public policy advocacy in this endeavour [the Sealink Project]. This project is a tool to encourage investment and stimulate business growth and development."
According to Mr Drammeh, it has been noted that throughout history, sea routes have been more important than land routes, because they carry more goods, and are more economical.
Today, according to some accounts, he noted, 90% of intercontinental trade and two-thirds of all petroleum supplies travel by sea.
He continued: "Globalization relies ultimately on shipping containers. And the Indian Ocean accounts for one half of all the world's container traffic.
"Let us be aware that wealth follows trade, and with wealth comes the means to purchase influence and power."
As West African populations continue to increase and become more prosperous through the enlargement of middle classes, trade and energy routes will burgeon in all directions, both on land and at sea, leading to a multiplicity of organizations and alliances, the FEWACCI president noted.
"Such alliances can be formulated around the combination of middle eastern energy and finance with African raw materials and untapped food potential, Indian and Chinese goods, services, investments, and markets, all rewarding ventures and partnerships."
This is why, he said, Sealink is so important an area of investment and growth that "it brings along a lot of wealth for a lot of people in the West African sub-region just as shipping has done for Asia and Indian Ocean countries reaching south to South Africa".
Through the Sealink project, West Africans' and, by extension, Africans' problem of trade barrier caused by transport logistics and heavy costs will be greatly alleviated, averred Dr Ken Ife, an experienced and knowledgeable consultant of the project.
The free movement of goods, services and people, which is being preached by West African authorities but yet to be realised, would come to pass under the Sealink project, whose vision and mission are to foster inter-regional maritime passenger and freight services as a catalyst to trade development in and between the sub-regions, as well as to complement and improve existing transportation (road and airline) services by providing additional capacity and the alternative of ocean transport routes.
A presentation on Sealink Investment and financial highlights, which included the equity and shares of the business, was delivered by FEWACCI Chief Executive Officer, Cherno Jallow, who was also one-time the CEO of the GCCI.
The National Investors Forum, which brought together economic operators from various business establishments and private sector-led institutions such as the Gambia Investment and Export Promotion Agency, was moderated by GCCI economist Sarata Conateh.
Read Other Articles In Article (Archive)