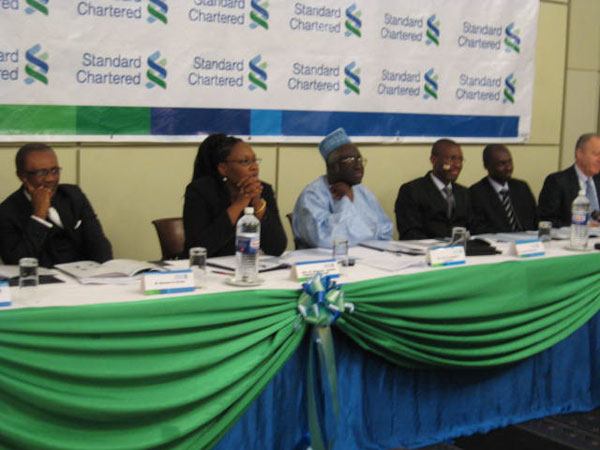 With the increase in the number of financial institutions in the country the room for competition is wide thus making it a challenge for financial institutions. Not withstanding Standard Chartered Bank has proved itself to be a bank of excellence resulting in a profit of GMD 169.747 million before taxation in the year under review.
The bank last Thursday held its 30thAnnual General Meeting(AGM) at the Kairaba Beach Hotel in Kololi.
Madam Kumba Samega Janneh, Company Secretary, read the agenda of the meeting as: to receive and adopt the accounts to 31stDecember 2007 together with the reports of the Directors and Auditors, to declare dividends and to authorise the Directors and fix the remuneration of the auditors and Directors.
In his report at the meeting, Mr. Momodou B.A Senghore, Chairman Board of Directors SCB, stated that as a result of the banks performance, the board is recommending a final dividend of GMD72 million or 120 Bututs per ordinary share; in addition to the interim dividend of 50 Bututs per share already paid out in September 2007. On the banks future outlook, he stressed that the bank is in good shape for future growth and performance continues to be strong. "Our group intent to remains unchanged: -to be the world's best international bank leading the way in Asia, Africa and the Middle East," he said.
For Mr. Humphrey Mukwereza, CEO and Managing Director of SCB Gambia limited, " the results for the year ended 31stDecember 2007 reflect the high performance of the bank in a highly competitive environment". He said that the bank delivered a strong set of results and achievements in the year under review, adding, "we won the Best Foreign Exchange Bank Award" from Euro Global.
Read Other Articles In Article (Archive)