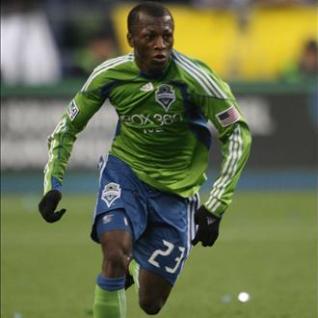 Gambia international Sanna Nyassi featured for 46 minutes during his side's MLS Playoffs exit on Sunday by the Los Angeles Galaxy.
Los Angeles Galaxy's two set piece goals at the back of David Beckham led to a comprehensive 2-1 win over Seattle Sounders FC.
Los Angeles Galaxy have therefore progressed with a 3-1 aggregate win over Seattle Sounders into the Western Conference final against FC Dallas.
Seattle Sounders FC coach Sigi Schmid, who saw a bit of a bright side to his club's 3-1 aggregate loss to Los Angeles Galaxy in the MLS playoffs, told goal.com that Galaxy were too much for his inexperienced side.
"We showed some character in the second half and created a lot of chances," Schmid explained in his post-match press conference. "But chances don't mean anything if you can't score goals."
Seattle did, in fact, manage to score a single goal, as Steve Zakuani beat Galaxy goalkeeper Donovan Ricketts late in the match, but at that point, Seattle's fate was practically sealed.
The Sounders coach confirmed that he was proud of the club's two U.S. Open Cup victories thus far, though he reasoned that some may view that competition as a minor one.
All in all, however, Schmid seemed to point to a combination of a lack of seasoning experience and perhaps a lack of quality as the reasons Seattle exited the playoffs in the first round for the second year in a row.
"We have to become better," Schmid concluded. "We can't give up goals on set pieces like that and we can't start to play 20 minutes into the game. We have to play sooner."
In the Eastern conference, Omar Jasseh's San Jose Earthquakes will take on Colorado Rapids in the Eastern Conference Championship on Saturday, Nov. 13 at Dick's Sporting Goods Park in Commerce City, Colorado.
The Earthquakes and Rapids met twice in the regular season, with each team winning 1-0 at home.
The Rapids and Quakes, according to sjearthquakes.com, are both surprises to reach the semifinal stage of the MLS Cup Playoffs.
The winner of the Eastern Conference Championship will face the winner of the Western Conference Championship on Nov. 21 in MLS Cup at BMO Field in Toronto, Ont.
The San Jose Earthquakes previously made the playoffs in 1996 and from 2001 to 2005, and have won two MLS Cup Championships - in 2001 and 2003.
Read Other Articles In Article (Archive)