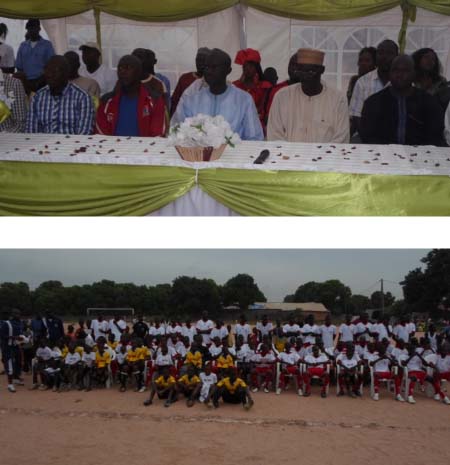 Minister of Youth and Sports Alieu K. Jammeh on 2 November 2013 presided over the official launching of Sanchaba Sulay Jobe Football Academy at a colourful ceremony held at the community's football ground in Sanchaba Sulay Jobe.
The occasion also witnessed presentation of football materials to the academy, which has 65 players ages between 6 and 20 years.
The academy, which has been operating since 2011 coordinated by an academy coordinator and 4 technical staff, is being financially backed by TRIO Foundation, based in Switzerland.
Apart from football activity, all the academy players are on full scholarship at different schools or institutions.
Youth and Sports Minister Jammeh, in his launching statement, said the setting-up of the academy is not just important for the community of Sanchaba Sulay Jobe but for the entire country, for which he also thanked TRIO Foundation.
He expressed his appreciation of their support and assured them of Government continued support and in providing them with the enabling environment to contribute to the development of sport in the country.
Hon. Jammeh also thanked the parents of the academy players for making it possible for their children to achieve their dreams.
"You have an opportunity not only to play football but also to exercise your skills and achieve your dreams on other areas (such as education)," he told the academy players while challenging them to make best use of it.
With the launching of the academy and the modern academy set to be built, they are convinced they will see Gambian football reach where they want it to be, he noted, saying they want to see the national teams compete in international tournaments, which, he added, can be achieved through the forming of this kind of academies, which is the grassroots.
"What we need is modern academies," he remarked. He said there is hope The Gambia will have the likes of Drogba, Yaya Toure, etc but this cannot be achieved without the required financial support, therefore he calls on companies, individuals and all stakeholders to complement Government efforts.
Government, particularly the President of the country, has been investing heavily in football development, he stated, saying people are not willing to complement Government efforts.
He called on the players to exercise discipline and work hard, adding that their coaches are there to put them through.
Minister Jammeh also called on the parents never to lose hope in their children and to continue giving them moral support, saying they have no doubt the players will deliver.
Jammeh described the Government as one of young people that is also out to serve and help young people, saying there are numerous opportunities for young people in the country.
Kebba K. Touray, second vice president of the Gambia Football Federation (GFF) who deputised GFF President Mustapha Kebbeh, described the setting-up of the academy as a step in the right direction, while calling on communities to support their community-based clubs to develop grassroots football.
He said they hope to see more partnership of the TRIO Foundation to support in the development of sport, noting that the Ministry of Youth and Sports has always been key in supporting them to achieve their goals.
He noted that the presented materials will go a long way in addressing the academy's needs, and also assured them of his Federation's continual support.
Modou Touray, acting-Alkalo of Sanchaba Sulay Jobe, described the academy as one of the most successful projects of the village, saying investing in youth means investing in the future.
Balla Jarsey, TRIO Foundation Representative, in his statement, said it is his belief and that of Mobicel Blue Ocean Wireless Company that no nation can develop without a healthy youthful population, adding that to be able to achieve any set of goals one needs to be in a good state of health since a healthy populace is a healthy nation.
"This state can only be achieved by encouraging not only our young ones but the whole populace, to create time to exercise," he stated.
"It's now known to all that football has turned to be a multi-million dollar industry which has transformed some struggling families to extreme success, and has also transformed poor communities to very developed ones," remarked TRIO Foundation representative Jarsey.
"We have seen where a single professional footballer is worth more than the income of an entire town," he added, saying: "And take it from me that the financial incentives in the world of football will only be in the rise as football continues to be the world favourite game."
He said 65 players between the ages of 6 and 20 years have been training heard for nearly a year now, adding that these are young people who have huge talents in football and are prepared and determined to make it through the hard and challenging world of professional football.
"What we are looking at here today is the future Yaya Toures, Drogbas, Eto'os, etc, but was quick to point out that all these achievements would not have been possible without the intervention of TRIO Foundation in Switzerland, which is the chief financer of the academy and also involves in all the planning process," he said.
"The Foundation plans to build a modern football academy as soon as possible as a site has already been indentified," Jarsey revealed, adding: "The building will include a classroom, kitchen and dining room, planning room, dormitory, offices, football pitch and everything that goes with an academy."
TRIO Foundation is not only football focused but also the education of its players, he noted, saying the Foundation has given scholarship packages to all of them up to university level if they wish so.
"It's the belief of TRIO Foundation and that of Mobicel that football is not the only profession in this world, so if you cannot make it in football, we will offer you education as education is the key to success," he also said.
"So to Sanchaba Sulay Jobe Football Academy I say you have once in a life time opportunity which you should seize and make best use of," he said while advising the players to take both their trainings and education very seriously.
Mr Jarsey also took time to thank the Government of The Gambia for creating the enabling environment for the whole process to happen and assured everyone that TRIO Foundation and Mobicel are here to stay as true partners and friends.
Jerreh Ceesay, coordinator of Sanchaba Sulay Jobe Football Academy, thanked Trio through Balla Jarsey for the gesture, saying one of their priorities is to work towards the development of the academy and the youth.
He also urged everybody to join hands and help towards the development of the academy as they are promoting grassroots football.
He concluded by thanking the youth of the academy for the trust they have in him to work with them.
Read Other Articles In Article (Archive)