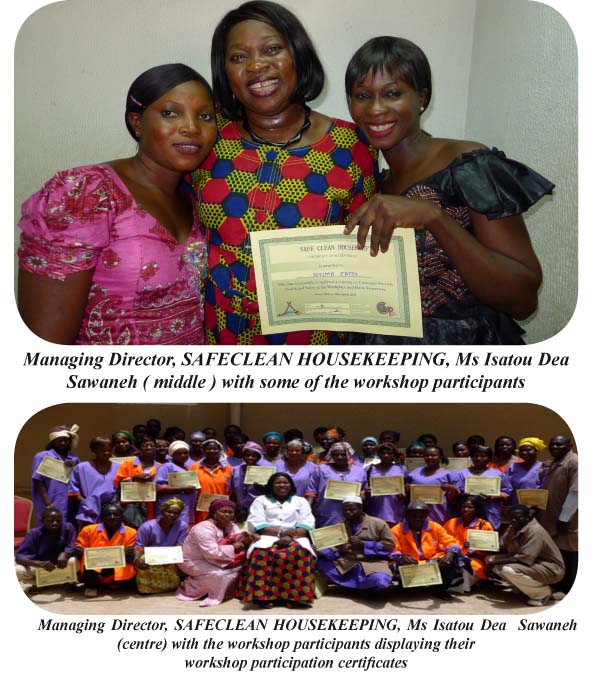 Organizes Training Workshop for Staff
SafeClean Housekeeping was sponsored by the Gambia Growth and Competitive Project to train 35 members of staff to improve service standard and safety at workplace. The training was conducted by Service Extra Consulting from the 20th to the 24th April 2015 at the Africell conference facility in Kairaba Avenue. The cleaning service company based in The Gambia is poised towards ensuring a safe environment for The Gambia via building the capacity and confidence of its staff in the delivery of perfect environmental cleaning services to its numerous clients and the society at large. SafeClean Housekeeping was founded by Ms Isatou Dea Sawaneh, a professionally trained Nurse. She also has a certificate in Safety Management from the American Red Cross, and a vast experience in House Keeping and Environmental Management. It was her 14 years' experience in New York, United States that provided her with the strong skills and confidence to open SafeClean Housekeeping in The Gambia. The company recognizes how important their staff is. Thus, the cleaning staff are considered the most important employees, not only because they clean the clients' premises and collect litter but because they are the most visible employees and therefore critical to customer service. The aim of the training programme is to empower the staff to take responsibility for the quality of their work.
The resource persons include Mr. Lamin Bojang, an expert in Environmental ManagementCapacity-building programmes, who conducted his session in both local and Englishlanguages to ensure that the lessons taught sinks deeply into the hearts and minds of theparticipants. In essence, the programme was guided by the following objectives: Understanding basic cleaning principles; Identifying the correct chemicals to use; Cleaning above the floor; Cleaning textile surfaces; Cleaning hard and resilient surfaces; Cleaning kitchens; Identifying and processing waste; Providing good customer service and portraying a professional image. On the other hand, the course outline embraces; Understanding basic cleaning principles; Use of chemicals in the cleaning services environment; Cleaning toilets and bathrooms; Cleaning above the floor surfaces; Cleaning windows; Vacuum dry surfaces; Removing spots and spillages from carpets and upholstery; Sweeping floors; Cleaning floors using a single disc machine; Kitchen cleaning, etc.
The training programme also dwelt deep into the methods of sensitization, management and control of diseases, especially the highly dreaded Ebola disease. It explained much about the Ebola disease symptoms, causes, control and prevention. Beyond these, the programmeexposed the participants to the importance of being environmentally responsible, as it affects providing good customer service in environmental cleaning services, as well general environmental awareness. SafeClean Housekeeping scope of services include; cleaning corporate offices, residential buildings, all forms of high rise buildings, grass-cutting, after-construction cleaning, sanitation of hotel premises, fumigation, beautification of structures and premises, landscaping and sundry environmental management services among others.
The participants were issued with certificates of participation at the end of the workshop.
Read Other Articles In Article (Archive)