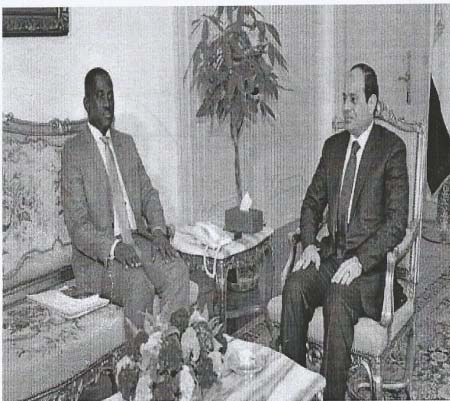 Minister of Presidential Affairs Momodou Sabally was recently in Cairo, Egypt, as a special envoy of President Yahya Jammeh, and he delivered a special message to the new President of Egypt, Abdel Fattah el-Sisi.
Sabally also conveyed President Jammeh's congratulations to el-Sisi on his recent election as President of Egypt, as well as Jammeh's resolve to enhance the bilateral relationship.
The Gambia government views Egypt as a true development partner, and is very appreciative of Egypt's support over the years, Sabally told the new Egyptian leader.
In response, President el-Sisi asked Sabally to thank President Jammeh; and, said he appreciated the bilateral relationship.
El-Sisi also promised his government's support to strengthen ties, as part of fruitfully engaging with Africa through the platform of the African Union.
Information received from the ministry of Foreign Affairs in Banjul further revealed that Minister Sabally was at the head of a delegation of three Gambian cabinet ministers, which attended the inauguration ceremony of President el-Sisi in Cairo.
Meanwhile, according to new reports, President Jammeh met with the Egyptian head of state in Malabo, Equatorial Guinea, during the African Union summit held on 26 and 27 June.
Read Other Articles In Article (Archive)