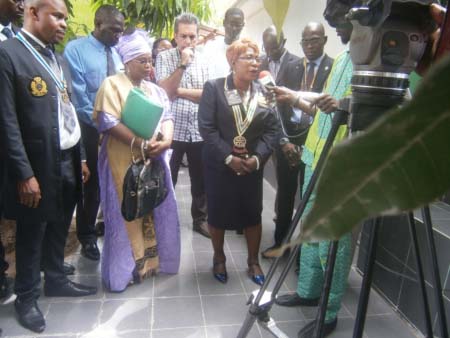 Rotary Club of Fajara on Wednesday handed over water, sanitary and hygiene (WASH) facility worth at least D1.5 million to the Edward Francis Small Teaching Hospital (EFSTH).
The structure, built at the maternity wind of the hospital, is expected to provide hospital escorts with shelter and toilets facilities.
It is mainly providing escort for women going there to deliver and those who used to sleep on the street.
The handing-over ceremony was presided over by Rotary International Governor for District 9101, Richmond Ahoua Marie Irene.
The governor expressed appreciation about the "mighty development" and "quality work" undertaken by Rotarians in The Gambia, particularly the Rotary Club of Fajara.
The president of Rotary Club of Fajara, Ibrahim Touray, said the Fajara club places high premium on supporting the health sector.
He said the WASH facility was built to cater for the hygiene and sanitary needs of hospital visitors and escorts.
The director of administration at EFSTH, Malang Ndong, thanked the club for constructing the "state-of-the-art facility" while assuring them that the facility would be properly maintained.
The former chief medical director of the Banjul hospital, Dr Ammar Al Jafari, said the facility would greatly address the need of escort women at the hospital, which was a major concern.
Madam Adam Wadda, former president of Rotary Club of Fajara, said the club is deeply committed to providing support to the less privileged in society.
Minyan Jobe, past president of Rotary Club of Fajara, urged the management of the hospital to take ownership of the facility by managing it properly for longevity.
Rotarians are a group of business people and professionals who came together for humanitarian services through providing and facilitating development in communities.
Read Other Articles In Article (Archive)