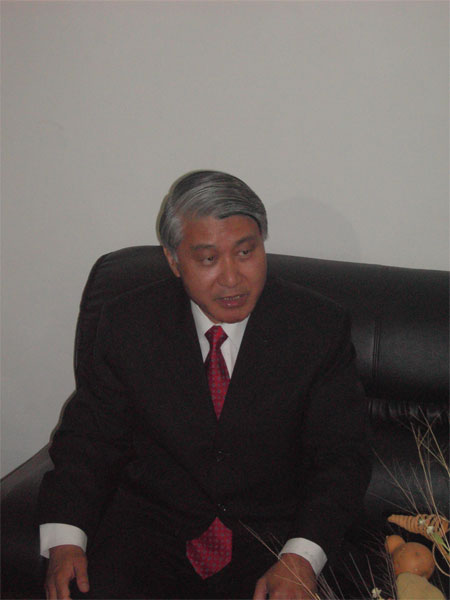 The ambassador of the Republic of China on Taiwan His Excellency Richard Shih have said that his country will continue to cherish its diplomatic allies, honor its commitments to them, and expand cooperation with like-minded countries.
The Taiwanese diplomat made these remarks recently during celebrations marking Taiwan's 97th national day.According to him, the new administration of Taiwan has pledged to render the Republic of China on Taiwan a respectable member of the global village, upholding equality, reciprocity, good neighbourliness, respect to treaties, advancement of international justice, and enhancement of world peace as its guiding principles in developing foreign relations.
On the issue of Democracy, Prosperity, Humanism, Rationalism and Pluralism, ambassador Shih said thatthe Republic of China on Taiwan has just had a new government in May 2008. Facing challenges from globalisation, the new administration has undertaken to better democracy, to open up and deregulate the economy, to satisfy the basic needs of the underprivileged, to restore political ethics, to pursue environmental sustainability, to ensure accountability in governance, and to abide by the principle of separation of powers, so as to revitalise both public and private sectors and lift the country up to a higher level of development. To achieve this goal, Taiwan has to secure an environment that is conducive to the intended developments
On Win-Win Solution to the Relations between the two sides of the Taiwan Strait, he said that with a firm belief that the creation of peaceful relations between the two sides of the Taiwan Strait would be in the common interests of both sides and the international community, the new administration has committed to maintaining the status quo in the Taiwan Strait under the principle of 'no unification, no independence and no use of force' as well as under the frame of the ROC Constitution. It also called upon the authorities of mainland China to resume, based on '1992 Consensus' - 'One China, Respective Interpretation', cross-strait negotiations on firstly normalisation of economic and cultural relations. While emphasising that the cross-strait relations should be based on security, prosperity and dignity, the new administration has made it very clear that only when Taiwan is no longer being isolated in the international arena can cross-strait relations move forward with confidence.
Read Other Articles In Article (Archive)