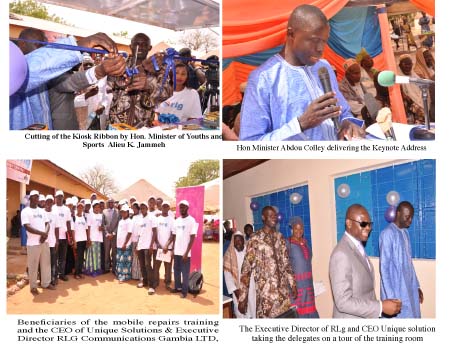 A public-private partnership between Rlg Communications, Unique Solutions and the Ministry of Trade, Industry, Regional Integration and Employment has led to the birth of a state-of-the-art rural ICT technology center in Basse, URR.  The main aim of this public private partnership is to curb the rates of rural urban migration by extending the popular Mobile Phone Repair Training Program to young men and women resident in URR, beginning with a pilot group of 30, thereby equipping them with the necessary ICT skills that will enable them to engage in successful self-employment ventures.
The center was inaugurated on March 10th 2014 by MOTRIE Minister Abdou Colley, who gave the keynote address at the event.  Speaking on the occasion, Mr. Papa Yusupha Njie the Executive Director of Rlg Communications, also the proprietor of the Unique Solutions Company said both Unique Solutions and Rlg Communications have corporate social responsibilities targeting important sectors like sports, education and the entertainment industry. He disclosed that Rlg has created employment for over 100 young people as technicians and agents in its assembling plant and sales channels.
Having been in existence for more than a decade during which time operations have expanded beyond the borders of Ghana to Nigeria, Kenya, China and Dubai, Mr. Njie said the technology giant's objective is to use The Gambia's strategic advantage as a sub-regional trade gateway and as hub to enter into other countries. "In addition to our mandate of job creation for the well-deserving youth of The Gambia, Rlg Communications Gambia Ltd will focus on the assembling of mobile phones, laptops, desktops, led TV screens and internet routers that will surpass all measurements of dependability and reliability. It is time to show the world that with a new generation of African entrepreneurs, we can really compete with the best and make a difference in the lives of the people we serve,"
The entrepreneur concluded by commenting on the critical role the private sector plays in the economic development of any country in terms of investment, job creation, transfer of skills, taxes and so on.
As part of events marking the inauguration of the center, Rlg Communications also launched 10 kiosks to be used as sales and repair points for its products.
The Minister of Youth and Sports Hon. Alieu K. Jammeh gave a brief statement during the event and urged the students to take maximum advantage of the benefits that will be accorded to them by the training program. Also in attendance was the Permanent Secretary, MOTIE. Mrs Naffie Barry, Deputy Governor URR, Alkalo, Imam Manneh Kunda, yai compins, Members of the National Assembly, Management and staff of RLG and Unique Solutions, and a cross of the diplomatic community, business corporations and civil society.  Cultural troupes entertained the audience during the inauguration ceremony.
Read Other Articles In Article (Archive)