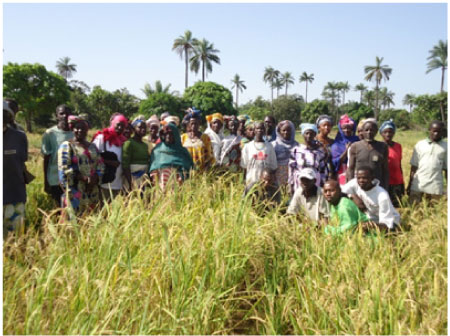 Rice farmers within Lamin-Abuko catchment areas were on17 December 2012 engaged in a participatory evaluation trial of various varieties of rice within the mangrove ecological areas in Lamin-Abuko rice field.
The evaluation exercise attended by rice growers was conducted by the National Agricultural Research Institutes (NARI) with support from the African Rice Centre.
Speaking at the exercise, Absa Jaw, a rice breeder working with NARI under the cereal programme, who doubles as the focal point for the rice breeding taskforce of Africa Rice Centre, spoke at length on the importance of the exercise.
According to her, the involvement of farmers would enhance the participatory evaluation exercise in the interest of the Gambian farmers.
She went on to say the breeding taskforce was established in 2010 with the ultimate objectives to accelerate selection of varietal development processes in Africa as well as extending the new breeding line to the farmers for adaptation and adoption.
"The importance of this event cannot be over-emphasised as farmers are given the opportunity to participate in the selection of their choice of rice varieties," she added.
She said the participatory varietals screening is a process whereby the farmers are called to participate in the selection of the varieties of their choice, varieties of their adaptation to their ecologic, varietals selection of resistant to salinity pest and disease, and other factors hindering the rice production system in The Gambia.
She added that the involvement of the farmers in selecting choice of their varieties is key in the breeding taskforce, in the sense that farmers are the end users of these varieties; noting that farmers are the right people to determine the types of varieties that are fit for high yielding, resistant to diseases and pest with technical advice from the technocrats.
At the research level they can identify high yielding varieties that are resistant to pest and disease but that is not enough, she said.
She added that they also need to encourage farmers to come and evaluate the varieties, and look at different agronomy and trade system.
She further stated that the aim was to ensure that varieties within the ecology of the mangrove are selected by farmers and later replicated to the outside country.
She added that at the mangrove ecological zones, it has been realised that salt intrusion is one of the major problems hindering most of the vast land uncultivated.
"So if we come out with varieties that are tolerant to salinity then the farmers will be very appreciative and that is what NARI is foreseeing," she noted.
Rice farmer Oumie Gibba buttressed on the importance of their involvement as key players in the selection of their choice in rice varieties.
She commended NARI for the initiatives and said it would go a long way in helping the farmers achieving high yield for rice production.
Read Other Articles In Article (Archive)