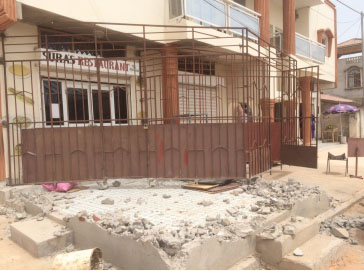 Surakata Mahanera has cried foul about the way his restaurant, located opposite the Serekunda General Hospital in Kanifing, was demolished by the Department of Physical Planning.
Mahanera returned to The Gambia in 2012 from Europe where he was living since 1992.He is a native of Gambisara in Jimara constituency but now resides in Latrikunda German.
The man, in his 40s, came to The Point newspaper on Friday to make his grievance known.
He said after living in Europe for 20 years, he decided to return home to The Gambia to invest by establishing a restaurant.
He said he has his a business registration certificate from Kanifing Municipal Council and TIN certificate from the Gambia Revenue Authority, even before he started operation.And he pays all the taxes on his type of businesses, according to his explanation.
"After registration, I decided to put up a tent but even before doing so I sought advice from Kanifing Municipal Council and I was asked to go ahead," the aggrieved businessman said.
"But to my surprise, one day, officials of the Department of Physical Planning came to my restaurant and told me to stop operation and that I should go and answer to them at their office in Banjul within 24 hours.
"I could not make it that day but the next day, I went there but I was told that officials from the physical planning will come to see the restaurant.
"They said I have to stop operating the restaurant because it was less ten metres from the hospital.The people they said should have come to see the restaurant never came.I was surprise on Thursday, 9 June, at around 1pm to see people from Physical Planning and they demolished, destroyed my restaurant.
"I am a family man, I need to do business for the sustenance of my family but now my business premises has been destroyed."
Read Other Articles In Article (Archive)