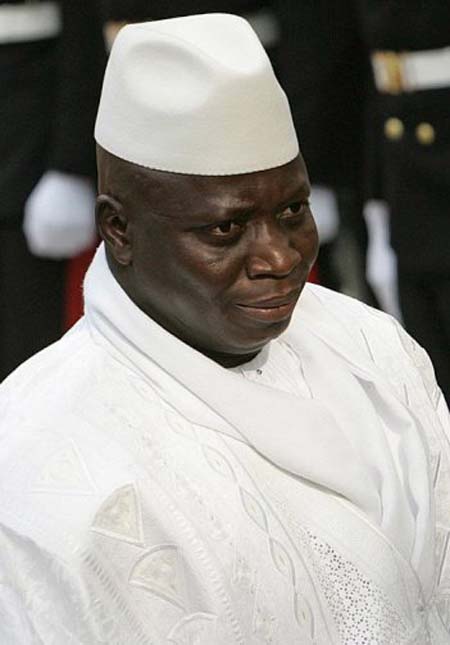 President Yahya Jammeh has spoken of "the remarkable successwe have registered since 1994", which "is manifested in all aspects of our daily lives, and we take great pride in the fact that today everybody living in this country continues to enjoy the benefits of our achievements".
In his address to the nation Monday night on national television, to mark the 20th anniversary of the coup in July 1994 which first brought him to power, President Jammeh said "looking back twenty years, we have a cause to celebrate our success".
According to Jammeh, "economic development in The Gambia has grown rapidly since July 1994 with great achievements in the key social sectors of education, health, public infrastructure, the productive sectors, as well as the services sector".
He went on: "The Gambia is on track to achieve the MDGs relating to education, health, water and sanitation, gender parity, reduction of maternal and infant mortality rates, and overall poverty reduction.
"Using the $1 per day per person poverty index, the incidence of poverty has been reduced considerably from 68 per cent in 1998 to 36.7 per cent in 2010.
"Today, we are closer to achieving full employment and decent incomes for all Gambians including women and young people than we were 20 years ago."
He said GDP has been growing at a rate of 5 to 6 per cent over the last four years of which agriculture currently contributes between 25 to 39 per cent. This share of GDP is rapidly expanding largely driven by significant investments in the sector since 1994.
The government will strive to increase agricultural productivity, especially through the recently launched Vision 2016 Food Self-sufficiency Initiative and other projects and programmes to boost national agricultural productivity, he added.
He said these policies, projects and programmes are geared towards improving agricultural productivity to guarantee food self sufficiency, raise rural incomes, expand employment opportunities and contribute to growth in exports.
According to President Jammeh, since 1994 there have also been "significant developments in the Tourism sector resulting in a significant increase in the sector's contribution to GDP, coming second to agriculture".
He announced that during the past two decades, jobs for Gambians in the sector have come to 35,000 compared to less than 6,000 jobs in 1993.
He said there has been "massive development of public infrastructure to support the development of the productive sectors of the country's economy".
He spoke of the development of a first-class national road network that links the major growth centres throughout the country, and that "today there are more than 1,000 kilometers of paved roads around the country compared to about 374 in 1993 and these roads have facilitated domestic and international trade.
The roads constructed from July 1994 include the Kombo Coastal Roads, Serrekunda-Mandinaba, Mandinaba-Soma, Brikama-Sanyang, Essau-Kerewan, Kerewan-Farafenni, Farafenni-Laminkoto, Westfield-Sukuta, Barra-Amdalai, Transgambia highway, Soma-Basse-Sabi, Basse-Velingara, Mandinaba-Seleti, and Brikama-Dimbaya-Darsilami.
The Laminkoto-Passimus road and the Basse-Koina road projects are soon to begin, and their completion will contribute to further development of the country's first-class national road network.
As regards health facilities, "prior to 1994 there were a total of 28 health facilities throughout the country, with only two referral hospitals (in Bansang and Banjul).
"At the moment, there are 91 health facilities out of which 6 are major referral hospitals strategically located around the country to ensure universal coverage.
"Currently, projects are well under way to construct 4 more new health facilities to be completed by the end of this year".
In the education sector, 'twenty years on, the number of lower basic schools increased from 250 to 590, while the number of upper basic schools increased from 22 to 196, and senior secondary schools from 12 to 103. The total number of schools increased from 284 in 1994 to 889 in 2014, excluding madrassas.
"Correspondingly, the total enrolment from lower basic to senior secondary increased from 132,591 in 1994 to 411,443 in 2014 with the lower basic increasing from 105,471 to 274,939. Enrolment in the upper basic increased from 17,899 to 87,391 and in senior secondary from 9,221 to 49,113.
"Similarly, the number of teachers increased at the lower level from 3,158 in 1994 to 7,464 in 2014, while in upper basic schools it increased from 666 to 3,154 and in senior secondary schools from 460 to 1971.
"What is most significant is the increase of the proportion of Gambian teachers in senior secondary schools, which increased from 34 per cent in 1994 to 68 per cent in 2014.
"The University of The Gambia was established to cater for the human capital development needs of our country."
Read Other Articles In Article (Archive)