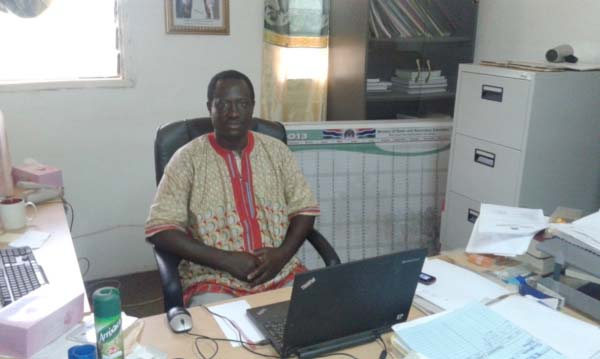 Community involvement and participation in the promotion of the concept of home-grown school feeding program is crucial to sustain the ongoing program, the acting regional education director for region 3 has said.
The initiative would complement World Food Program and by extension accelerate source of income of farmers.
Paul K Mendy, the acting director, said the Ministry of Basic and Secondary Education is committed the attainment of quality education.
He was speaking on Thursday in Jokadu Tambana at the clearing of 2 hectare land donated to the Mother's Club of St Georges Lower Basic School of Tambana for a home-grown school feeding program.
He lauded the community for their steadfastness and support to the education sector, noting that the support would contribute immensely in accelerating community response to supplement home-grown school feeding program. He noted that the directorate would support in linking the mother's club to institutions to enhance food production and diversification.
The acting director disclosed that in 2015, the permanent secretary and team, during a CCM, visited the school and were impressed on the involvement and participation of community in promoting learning and teaching in school.  A follow-up visit was also held by the select committee of the National Assembly to gauge the community and mother's club participation in supplementing school feeding program.
Saikou Samusa, principal education officer, echoed similar sentiment and applauded the mother's club for donating 4 bags of paddy rice to the school.  He noted that the attainment of quality education calls for concerted effort of all stakeholders.
PEO Samusa said allocation of 2ha land demonstrated the community's resolved in taking ownership the management of the school and food production.  He hailed the community for supporting the school, citing planting of cassava in the school garden.
Mariama Seckan, president of the mother's club, and Alagie Darboe, School Management Committee chairperson, commended the community for their support and cooperation in advancing girls education.
Mrs Seckan noted that over the years, the community continues to support the school in the enrollment and retention of girls in school.
Kaddy Gassama, mother's club mobilizer, used the moment to appeal for support in upgrading the school to basic cycle.
Alagie Darboe, head teacher of the school, thanked the community for their generosity and support to the school.
Read Other Articles In Article (Archive)