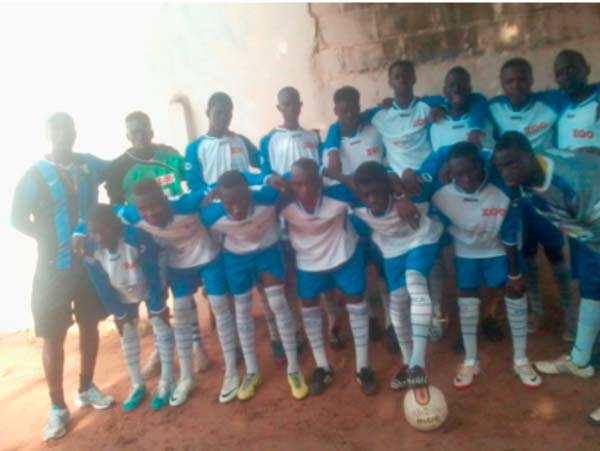 ICA Sports Football Club an Amateur sports team in UK recently donated ten sets of jerseys, football boots, footballs, corns among other items, to Raptim Football Academy.
The club coach by Ruff Frascogna donated the material to the Tallinding-based Academy through one Pa Sulay, a Gambian playing in England.
Julius Bassi Kamara, head coach and manager of Raptim Football Academy, said Raptim was founded in 2003 as a club, and the academy in 2010.
The donated materials would "really motivate" the players, he remarked, saying the boost was not the first from the donors, as they have been receiving support from them.
Manager Julius stated that he would always train the players to develop fast and be more skillful in the game so they could attract substantial contracts.
He remarked that, he want to bring development into Gambian football, pointing out, there are lots of potentials, talents and skills among kids in his academy, which is motivating him to continue with them as he believes some of them will become professionals in future.
He said they had a player who went through the 'Back-Way' and is now playing football in Europe.
He called on the donors to continue helping the young boys, to be able to grow and become professionals, which will benefit them and the nation.
He also thanked the donors for the gesture.
Coach Bassi as well urged parents of the players to give them some time off to train and become good footballers, as football is also today a business that which pays, and benefit families and nations.
He made reference to the like of Modou Barrow, who recently helped Muslims with rams for the forthcoming Tobaski.
In his comments, Ousman Saho, team captain, said they were very pleased about the gesture because one cannot play football without materials.
The donation will motivate them to do more on the field as well as in their drive to be professionals in the game.
"Most of us had problem of football boots but with the support by the donors that problem has been solved," he noted.
"It is up to the players now to be committed to be able to get to where we want," he added, saying they would always appreciate the donors for the gesture of support they have been receiving from them.
Read Other Articles In Article (Archive)