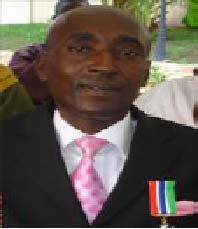 The Special Criminal Court that was established within the Criminal Division of the High Court to deal with capital and other serious offences is indeed on course.
The court's yesterday proceedings saw the conviction and sentence of a young man, Musa Sarr, to life imprisonment for the offence of rape by Justice Moses Richard, following his own plea of guilt.
The offence was that, the convict, Musa Sarr, on 22nd October 2008, at Bakau did commit an offence to wit having carnal knowledge of a girl under the age of 18 years without her consent.
According to the facts of the case, the victim and her aunt bought a mobile phone at the cost of D1000 from the convict place of business, at Serekunda Market but later found it to be faulty.
The facts further revealed that the convict was informed that its charging system was faulty and had to change it with another phone, which was also found to be faulty, prompting the victim to demand a refund of her money.
It stated that the convict later informed the victim that he had transferred from Serekunda Market to a new location around the Traffic Light, of which the victim said she did not know.
The fact of the case further revealed that, the convict told the victim that he had another mobile phone for a replacement, and was asked by the victim to meet her at the Independence Stadium in Bakau, where they were doing some activities.
According to the facts, they met at the venue where the convict told the victim that he had the phone at home, and as a result, the victim paid a taxi to go to the convict's home.  On their way, they dropped at a place where the convict said it was the shortest way to his home, only for the victim to see herself at Bakau 'faros'.
According to the facts, the convict had covered the victim's mouth, twists her neck, undressed her and forcefully had carnal knowledge of her, and as a result, she bled.
In his plea of mitigation, the Defence Counsel, Edu Gomez, said the offence of rape is one of the highest and most deplorable offences. He added that the court had a duty to protect society from such criminal activities.
But he posited that in this particular case, a young girl of 18 years was the victim, adding that "rape is a case of passion and emotion that will remain in the mind of the victim".
He said carnal appetite can lead to the fall of the mighty, and that there is human weakness when it comes to carnal issue.
Lawyer Gomez said "time have been safe, which the court can take into consideration," stating that it is not easy to forgive, but is noble to forgive.
He finally urged the court to tamper justice with mercy on the convict.
Read Other Articles In Article (Archive)