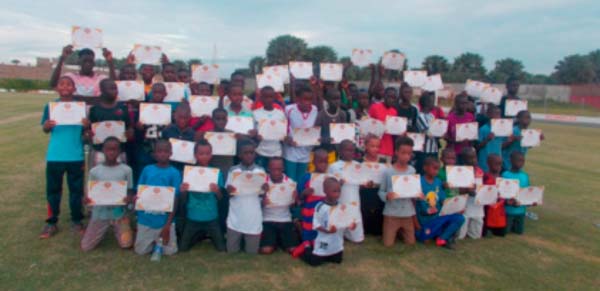 (Issue, Monday,19 September 2016)
The 2016 Qfootball summer camp participants were on Friday certificated at a ceremony held at Qcomplex in Bijilo.

The 2-month camp held at the Qfootball soccer school brought together 105 kids between the ages of 7 – 16. Twenty one (21) of the participants came from Qgroup while 84 came from the public.
During the camp, the kids were divided into 3 categories based on their ages: 7-10, 11-13 and 14-16. They also had test matches with other academies during the camp.
Speaking on the occasion, Alhaji Amat Cham, coordinator of the camp, said the camp was organised in other to contribute to football development in the country as well as catch the players young so as to easily refine their raw talents.
Cham who was also head coach of the teams added that as coaches they had a good time with the kids. He said the kids enjoyed what they were doing at the camp for they had called for the extension of the camp.
The Qfootball camp coordinator said the rationale for staging the camp was to contribute to the improvement of football in the country.
Lamin Kabba Bajo, president of Gambia Football Federation (GFF), hailed Qgroup for the initiative and thanked parents for allowing their kids to take part in the camp.
He noted that football is more than what it used to be – leisure, part time or fitness for health.
"Football is business, football is money," he said, adding that QCell's initiative would fill the sports investment and development vacuum left by the business sector in the country.
Mr Bajo said a time will come in The Gambia when the government and other sporting authorities will have less to do other than to coordinate and regulate as implementation will be done by the private sector.
"Sport has to be private sector-led such as it is in the EPL and La Liga where clubs are business oriented," the GFF president said. "There can be no sustainable football development or achievement without the right structures in place."
He further explained that the GFF has finalised the development of a regulation to regulate academies in the country as the number of academies continues to increase.
He said: "The GFF appreciates the efforts, initiative and courage of some academies but there is still a lot to be done; academies require proper facilities to operate. They either have them in place alone or partner with those with that have it because without basic infrastructure their products will not be as we desired.
"Football requires standard and acceptable pitches. The training grounds of some academies are just a little bit bigger than a basketball court.
"If you bring young people to play in that capacity and they go and found themselves in a pitch twice more than what they are used to, then you are exposing or overstretching them. Academies must have programmes associated with their activities. Some academies do not even have a table much more structures.
"People often come to this country and would want to help academies but the moment they visit them they are often discouraged by the academies' lack of infrastructure.
"Inasmuch as we appreciate the forming of academies in the country they have to be regulated so that they serve their purpose otherwise they will only be there and may not even be able to feed local league clubs much more international clubs."
Mr Bajo said the GFF's four-year strategic development plan has in it grassroots football development, regulation and support to academies and league clubs.
He said the federation is working on to expose GFF league clubs to financial support because even those clubs that are purportedly well-off are crying as sponsorship is not forthcoming.
"It is the responsibility of the GFF to reach out to both first and second division league clubs and we want to start supporting them this coming season to see that they prepare in a free hand without much stress on them so that they can participate regularly, normally and successfully in the national league," he said.
However, he pointed out that there must be more investment into the clubs either by the private owners or the private sector.
He described QCell as pacesetters in academics, sports excellence and national development and therefore assured them of his office's support and partnership.
QCell CEO Muhammed Jah said the Qfootball soccer school is as a result of their love for the country.
He said the centre, when completed, will have almost all sporting facilities.
He further pointed out that the complex would be world class for it will have an Olympic size swimming pool among other facilities.
"Our idea is not to build teams but to produce players that will be scouted by teams both nationally and internationally; our objective is to produce talents," Mr Jah said.
Momodou Sabally, director general of the Gambia Radio and Television Services (GRTS), thanked Mr Jah for the initiative.
He also offered words of wisdom to the players.
Abdou Salam Jah, in his vote of thanks on behalf of fellow players, said the camp was great.
Read Other Articles In Article (Archive)