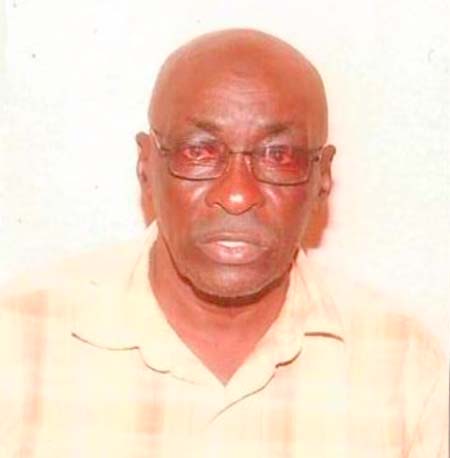 SURNAME: JOOF

FIRST NAME: DODOU
MARITAL STATUS: MARRIED
HOME ADDRESS: 22 SOUTH ATLANTIC, FA JARA, KSMD. THE GAMBIA
POSTAL ADDRESS: P.O BOX 1565, BANJUL
TELEPHONE: HOME: (220) 4495184 / 4463314
CELL: (220) 9901676 / 3901676 / 7702272
EMAIL: gam@mf.iaaf.org
PROFILE
ALH DODOU J. JOOF (CAPY) started his sporting carrier as a teenager attending Muhammedan Primary school, where he eventually became the best junior sprinter and member of the school football team under Rev. Francis Forbes. At the first Secondary Schools Athletics championships held at the Maccarthy square in Banjul in 1958, Capy dominated the Boys Under 5 ft 6 100m and 200m events, and the Senior 100 and 200m. It was at this championship he was given the name "AEROPLANE", where a Gambian Lebanese, Brahim Farage also gave him the name 4 X 4.
He was a member of the football team that won the trophy against St Augustine's at the KG V football field in Banjul. Because of his skills both in football and athletics, he was identified by the then commissioner of Police Mr E.C Eids, who was also the Vice President of GFA as a potential striker for the Police football team. In 1960 Capy was then recruited as a Constable in the Gambia Police Force, where he rose to the rank of Deputy Inspector General of Police until his retirement. Capy who is described as a doyen in the Gambian sports, has dedicated his lifetime and resources to sports development. This confirms his all round sportsmanship.
Capy was captain of the Gambian team at the 1st All Africa Games held in Congo Brazzaville in 1965, and competed in the100m and 200m sprints. He was also a national team basketball, football player, and athlete par excellence, holding the National record in both the 100m and 200m from 1962 to 1990.
He has attended the Olympic Games from 1984 to 2016, and has met all the dignitaries who matter in Olympic Sports. His contribution to sports capacity building for athletes and other officials is immense, as many Gambians have attended the following universities as a result of his initiative: Universities of MAINZ, LIPZIG, HUNGARY, KANSAS, and PORT HARCOURT. High Performance Training Centers in Kenya, Jamaica and Senegal.
CONTRIBUTION TO THE DEVELOPMENT OF GAMBIAN SPORTS
1. Capy contributes to the organising of the regions in athletics, and encourages them to form committees, and also to register with the GAA.
2. He also provides competition outfits and equipments for their training and participation at national competitions. These are namely, Essau (North Bank Region), Central River Region, Lower River Region, West Coast Region, Muslim Senior Secondary School, Gambia Senior Secondary School, Mahaad Senior Secondary School, Brikama, Amandus Athletics Club, Munyagain Athletics Club, Banjul Athletics Club, and Albreda Athletics Club. Support is also given to the Paralympics Sports Association. I also provide medals and trophies to both the Primary and Secondary Schools Sports Associations at their national championships. I also render support to the Brufut and Farafenni Marathon Organising committees.
DEVELOPMENT OF INFRASTRUCTURE
This is the bedrock and pillar for any meaningful sports development. The sporting materials and equipment secured for the Gambia and Sports clubs through his contacts is difficult to quantify. This strong passion inspired him with the initiative to spearhead the rehabilitation of the dilapidated running track at the Independence stadium. For this cause, he raised the sum of $360,000 (three hundred and fifty thousand US Dollars) from the IAAF and IAF foundation in 2012. He also solicited support from the IOC, which also approved the sum of $ 150,000 (one hundred and fifty thousand US Dollars) which is now being followed up for payment.
The hallmark of his achievements with only three years in office as President of the GAA, is the acquisition of a plot of land to construct the Gambia Athletic Association's head office. Work has started for the commencement of constructing the perimeter fence. This is expected to be completed in the next four weeks. The project is supported by Prince Nawaf Bin Mohamed Alsaud, a personal friend.
TRAINING OF GAA OFFICIALS AND ATHLETES
Sports really cannot be developed without the following:
a) The requisite infrastructure
b) Trained human resources
c) Relevant materials and equipment
In our quest to enhance the capacity of our Human Resource base, we have offered training opportunities at High Performance Training Centres in Europe and Africa. Seven officials have been awarded scholarships at the following universities, Mainz in Germany, one of them who is now an IAAF Lecturer and the Deputy Permanent Secretary of Sports at the Ministry of Youth and Sports, two officials at the University of Leipzig in Germany, and two at the University of Hungary. Five officials also attended the Levels two and three certificate courses in Kansas University, USA, and Nairobi, Kenya.
Five athletes were awarded scholarships at the Universities of Kansas, USA. These have now retired from athletics, and are now managing companies. Some of them also have secured high positions of responsibility at their respective work places.
HIGH PERFORMANCE TRAINING CENTRES FOR ATHLETES
1. HPTC – ELDORET, KENYA
A) ANSU SOWE
B) BAKARY JABBI
1. HPTC – KINGSTON, JAMAICA
A) ISAAC JONES
B) SUWAIBOU SANNEH
1. HPTC – DAKAR, SENEGAL
A) ISAAC JONES
B) ADAMA JAMMEH
C) GINA BASS
NOTE: Adama Jammeh and Gina Bass qualified for the just concluded 2016 Rio Olympic Games in Brazil. They have also won Silver and Bronze medals respectively, at the African senior Championship in Durban, South Africa in June this year. They are both now ranked number two and three respectively in Africa in the 200Metres event.
1. HPTC FOR JUNIOR ATHLETES – UNIVERSITY OF PORT HARCOURT, NIGERIA.
A) ASSAN FAYE
B) ALIEU JOOF
Capy also initiated the reactivation of the Inter Service Sports competition in 2005, and provided sporting gears for all the services namely, The Gambia Armed Forces, The Gambia Police Force, the Gambia Fire and Rescue Services, The Gambia Prison Services, and The Gambia Immigration Department.
In a strong bid to create employment opportunities for athletes, he made an appeal to the above mentioned services to recruit athletes after the completion of their schooling. We can proudly say that the best athletes representing the Gambia today are from the services.
QUALIFICATIONS
1969-70 - Football Coaching Course - Leeds UK
1970 - Athletics scholarship awarded by The British Council at Crystal
Palace London.
1977- Higher Coaching Certificate in Track and Field by AAAC / D.L.V FRG.
1977- Coach the Police football team that won the Gold cup.
1988-Diploma in Sports Administration and Management, Rome Italy.
1992- Co-ordinator, First Degree Coaching Course – Banjul, The Gambia
SPORTS CONTRIBUTIONS
2009 - 1993 Nominated Gambian Technical Delegate for Commonwealth and Olympic teams
1995 - 2011 Technical Director, West Africa Region II.
1994 - Nominated with Essa Jaw of Senegal to Draft the West Africa Region Two Constitution.
1968 - 1990 Held the Gambia's National Records in 100m and 200m
1984 - 2012 Headed the Gambia's Olympic team at the Commonwealth and Olympic Games
1966 - 1967 National Basketball team player
1965 - 1973 Represented the Gambia at the 1st and 2nd African Games in Congo Brazzaville and Lagos as Captain of the national team
1970 - Finalist in the 200m event at the Commonwealth Games in Edinburgh
INFRASTRUCTURAL DEVELOPMENT
Initiated the refurbishment of the dilapidated Independence stadium athletic track, and raised funds from the IAF, IAAF, and the IOC.
Two years after taking office as President, acquired a plot of land for the construction of GAA headquarters.
SELECTED PROFESSIONAL TRAINING
1. Diploma in Criminal Law and Evidence – Cairo, Egypt
3. Diploma in Counter Terrorism - FBI Training Group - USA
AWARDS
1988 - Awarded Long Service & Good Conduct medal by the President of the Republic of the Gambia
1988-At the Seoul Olympic Games, awarded Gold Medal by Striders International of U.S. A., and Young Angels of South Korea
1999-Awarded Hall of Fame by the GNOC
2005- Awarded IAAF Veterans Gold Pin, in recognizance of his valuable contribution to World sports
2007-Awarded Most outstanding Sports Personality of the year by the GNOC and Sports Journalists Association.
2010 - Awarded ORG by his Excellency Sheikh Professor Dr. Alh. Yahya A.J.J Jammeh ('Babili Mansa'), President of the Islamic Republic of The Gambia, in recognition of his valuable contribution to the development of Gambian Sports.
INTERNATIONAL POSITIONS OF RESPONSIBILITY
1984 – 95 - Technical Director, Zone II
1995- Elected Vice President of African Cycling Federation in Burkina Faso
2013- Nominated CAA Organizing Delegate
2013 - Treasurer CAA
2011 to date - Vice President, CAA West Africa Region II
2015- Re- elected unopposed, Treasurer CAA
2016 - CAA Jury of Appeal
2011 / 2016 - President GAA
Member GNOC
SCHOLARSHIPS AWARDED TO GAA OFFICIALS AND ATHLETES
1988 - KANSAS UNIVERSITY – USA
Dawda Jallow
1996 - KANSAS UNIVERSITY – USA
Momodou .L.Drammeh
Momodou Drammeh (Soap)
Pa Modou Gai
Fanta Ceesay
UNIVERSITY OF MAINZ - GERMANY (1992 - 2009)
Victoria Decker
Abdoulie Kah
Mariama Sallah
Fbou Fatty
Sulayman Jobe
Abdoulie Kah is presently an IAAF Level Two Lecturer, and DPS at the Ministry of Youth and Sports.
UNIVERSITY OF LEIPZIG – GERMANY
Francess Jatta
Mariama Sallah
Arthur Jackson
UNIVERSITY OF BUDAPEST, HUNGARY
Fama Secka
Modou Njie
IAAF KIDS ATHLETICS COACHES COURSE - LEVEL ONE (RDC, DAKAR)
Abdou karim Sey
Lamin S. Jawara
IAAF KIDS ATHLETICS LECTURERS COURSE - LEVEL TWO (RDC, NAIROBI)
John Kwokori
IAAF LEVEL THREE COACHES COURSE FOR SPRINTS AND HURDLES – NAIROBI, KENYA
Mariama Sallah
Capy's style of management has never been controversial, and has no intention of re-inventing the wheel. The GNOC as an entity has over the years worked very hard to improve on its transparency, accountability and probity mission. His team will continue to promote and support the interest of all our member associations both technical and financially to enable the achieve their desired goals and objectives. We will assist them nurture their current sports disciplines and will encourage them to expand in other fields. We will also encourage the setting-up of new sports associations to enable us widen our participation at the Olympic Games as part of our development strategy.
His team commits themselves to widening the net, for identifying talents country-wide, and will catch them young. Training of our administrators, coaches and athletes in all the disciplines will be intensified as a matter of priority.
His main priority as President of the GNOC, is:
1. To work in close collaboration with the Ministry of Youth and Sports through the National Sports Council, the Ministry of Basic and Secondary Education, the Regional Sports Committees, and all the national federations to develop grassroots sports, with much emphasis on School sports.
2. To assess all existing sports facilities in the regions to see how best they can be rehabilitated and upgraded to international competition standard.
3. To see that all football fields are provided with athletic running track.
4. To provide materials and equipment to all regions.
5. To promote the practice of all sports and see that see that each region has at least one trained and qualified coach for each discipline to handle individual sports, rather than having one coach responsible for all sports.
Read Other Articles In Article (Archive)