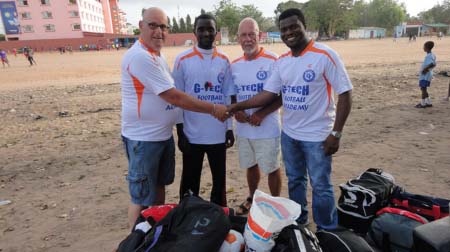 Though Gambian football may not have much to write home about in terms of success, it is however not poor at junior leveland certainly not mean in ambition to grow and nurture a bright futurethrough en masse grooming of young generation of players.
They come in the form of football academies dotted along the major towns in the Greater Banjul Area. In all, over a dozen academies are enrolling young people from age six upwards with a view of getting them to acquire skills in the game that is hugely popular among the tiny nation's 1.5 million people.
One such academy is the GTech Football academy, founded and headquartered in Banjul, The Gambia, but with tentacles it is gradually spreading into the sub-region.
And as the name indicates, it is one academy that is fine tuned to modern football management powered by Information Technology.
GTech academy is a subsidiary of the African Football academy, a concept that seeks to put up offshoots in many African countries to serve as an umbrella body for the attainment or realization of the dreams of youths across the continent through football.
"That is our dream globalizing the concept of catching them young under a single continental banner,'' said Enakeno Arausi, the director of GTech Gambia.
He top footballing stars from Africa such as Drogba, Eto'o and the Toure brothers have set an example that all young African football players wish to emulate.
"Football is big news all over Africa and local football fans use internet cafes to access the latest developments from their favourite football team, club or player. That is what we want to offer at African Football academy.'' he said.
But back the local scene close to 60 young children of different age brackets are tapped and recruited to under training in football under a dynamic and innovative programme aptly called ''Catch Them Young''.
The children are mainly of Gambian origin but GTech's international ambition means that some thirty percent of the intakes are of other nationalities.
"So for a start GTech put football to do the basic things in humanity, building bridges across cultures through instilling the team spirit tin the young kids'', the director said.
"On a visit to the academies Manjai Kunda training ground, I found a garden like scene full of blossoming fruit trees aiming for the sky.
"Separate columns of boys are lined up and placed at different corners of the pitch, with each receiving instructions from different coaches. The ball juggling, control, and passing were a pleasant sight."
A recent documentary shot on the GTech posted on the website, http://africa-football-academy.org showed the young boys in advance training under the tutelage of a competent set of coaches drawn from school P E teachers to professional league coaches.
They include Femi Sam Agama, already experienced in coaching school children, and Haruna Sonko, a young rising Gambian coach.
Alongside them is visiting coach, Arie Kooijman from Holland. He told me he pounced on GTech by a chance visit to The Gambia where a friend of his resides.
"Back in Holland I am in football all my life, so when I came here acouple ofyears back I watched few matches including that of Real de Banjul and made a few friends in Gambian football circles," he said.
"But I suddenly saw the need for basic materials in Gambia so I set up a campaign in Holland among friends and fellow football coaches to donate materials for use in The Gambia and when I was introduced to G-Tech, I was impressed with their work so I decided to continue helping them by collecting much needed foot kits for them.''
Kooijman has now brought pallets of materials for GTech since then and this time he said he would use his two-week visit to coach the boys.
"I trust in building the future around young people. Only the young people hold the future in football and my focus is centered on them,'' he said.
Koooijman said he is very impressed with G-Tech and would continue to equip them through his contact in Holland. That is music to G-Tech director Enakeno Arausi. "We found a great fortune in his association with us as we share the same ideas about building a football future," Enakeno said.
He also said the object of G-Tech is to spread branches around the region from The Gambia, providing a connection from Africa to the modern world for many young Africans.
"We help young African football players to gain access to the internet to research the latest football news, build their language, literacy and IT skills and ultimately capitalize on the research and communication potential of the internet to realize their ambitions," he explained.
On the prospect of business in football Enakeno said his organization has put in place a robust internet facility that would enable players to submit CVs for exposure to the world and enable football clubs, football coaches and football managers to buy and sell players in an open transfer market.
"All you need is to search and browse our listings of African football players using the transfer search facility and find the best footballers in Africa by age, position, experience, nationality, wage, club, fee and more,'' he said.
"I left the Manjai Park rich in inspiration and fulfilled in spirit, knowing that with GTech's high tech approach to football management, The Gambia and indeed Africa can live on hope for a great future. It is all on the face of the young Gambians I watched at Manjai."
Read Other Articles In Article (Archive)