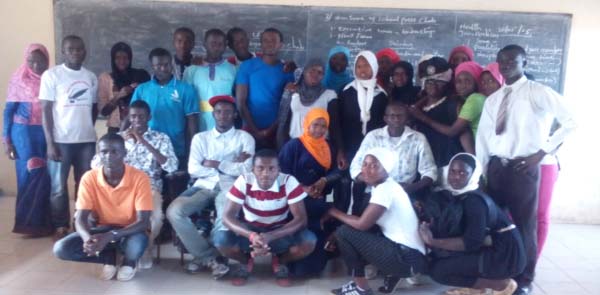 The Public Relations Officer of the Young Journalists Association of The Gambia (YJAG) has said professional integrity is the cornerstone of journalistic credibility.
Yaya B. Baldeh made this remark while presenting a paper on the topic: 'Journalism ethics as truth-telling in the public interest: The need for professional integrity' over the weekend at a workshop organised by Kotu and Sheikh Mass Kah Senior Secondary schools press clubs held at Sheikh Mass' premises.
Speaking to scores of students and would-be journalists from both schools, Mr Baldeh said the credibility of a journalist is measured on how much he/she is adhered to the professional ethical values of the profession.
Each profession is guided with basic principles for its day-to-day operation and in journalism, Baldeh said the basic principle is 'seek the truth and report it'.This principle requires journalists to be honest, fair and courageous in gathering, interpreting and reporting the information at all times.
The YJAG PRO said journalism is much more complicated and challenging than simply sharing what one knows.
"This is what necessitated the observance of certain rules for effective and efficient presentation of information to the public domain," he said.
"We look to journalists to be our eyes and ears about important events. We avail ourselves of journalistic expertise in collecting and interpreting facts that are vital for decision-making or that inspire people interest.
"The information presented by journalists is so important to our lives that we expect journalists to the best of their abilities to write and speak the truth," Baldeh added.
In his presentation on interview tips for journalists, Kebba Jeffang said certain skills are required by journalists to have a successful interview.
Mr Jeffang, treasurer of YJAG, said: "Every journalist should know the person you are to interview and should as well be au fait with topic you are to interview the person on.
"When conducting an interview, it is important for a journalist to be focused and listen keenly to your source so as to report the news accurately."
Sheikh Mass Press Club teacher coordinator Landing Sallah, in his remarks, said he was delight about the initiative and presentations.
Ismaila Sonko, president Kotu Senior School Press Club, hailed YJAG for delivering the presentations.He also called on his fellow students to apply the knowledge gained from the forum.
Read Other Articles In Article (Archive)