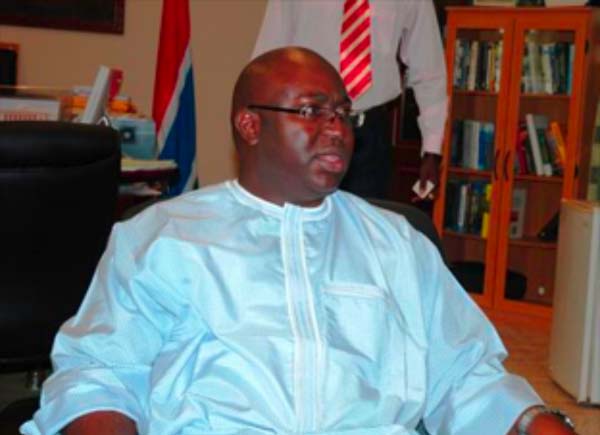 The Vice chancellor of the University of The Gambia (UTG) has said the tuition charged by the university is low, but students hold a contrary view, saying it is beyond the reach of most Gambians.
Speaking at the inauguration of the new faculty of law building and school of journalism and digital media of the UTG on Saturday, Prof Muhammadou M. O. Kah said the university charges low student tuition "to make university education affordable and accessible".
However, a law student of the UTG, who prefers to be anonymous, said "that is not the case".
The young man told The Point that the tuition of the UTG is not affordable to most Gambians.
He said most of the students at the university have to seek a scholarship to be able to continue at the UTG, because their families cannot "definitely afford it".
For example, he said, at the law faculty, most of the students enrolled are on sponsorship.The few who are not lucky to have sponsorship do 'the start stop method' - they pay for a semester and at the completion of that semester they defer to go and look for money and continue later.
The tuition fee at the law faculty, for example, is D40,000 per year, at the moment.
"Could you imagine D40,000! This is not practically affordable to most Gambians.And the university has a policy of increasing tuition fee by 10 per cent every year.I started by paying D39,000, but this year I should pay D41,000 and before I complete the four-year programme I will pay more than that," the law student said.
He reiterated that the tuition fee is not affordable and it should "definitely be cut down to the standard of the average Gambians so that more people can access the institution".
Just like the law students, many students from different faculties of the UTG said the tuition is higher than what average Gambian families can afford.
Magnificent edifice from low revenue
Despite the low tuition paid by the students, Prof Kah said the university was able to eke out and construct a multipurpose complex from its own revenues.
The vice chancellor said the multipurpose complex that serves as the new faculty of law edifice comes in fulfillment of efforts not only to modernize, but also to comprehensively restructure and reorganize the University of The Gambia.
He said the building is now ready for use as the home of the Legal Aid Clinic, which serves, offers free legal services, five special lecture and seminar rooms, a library, and a conference hall with a capacity to hold over 500 guests on the top floor, among other facilities.
Read Other Articles In Article (Archive)